Carousel Features & Improvements
We are continuing to improve and develop new features for our Divi Carousel Maker plugin, and today we are excited to announce version 2.1! This update includes new slide counter features, opacity features for the navigation controls, a feature to equalize the thumbnail controls width, pause auto scroll if a video is playing, and various fixes and improvements to the code. We also now have 113 free demo layouts you can download, so be sure to check those out! The best place to get the news on what is new is right here in this video, but you should also check the changelog, documentation, and demos for more information. Oh, and we did a little branding refresh too, do you like it?
Slide Counter
The Divi Carousel Maker plugin provides various navigation and scrolling options to enhance your website visitors experience when using the carousel. In this update we have added a new slide counter feature, which is a great way to indicate which slide the user is currently viewing, and also how many total slides there are in the carousel. Each of the numbers and separator can be styled with full design settings, including alignment, margin, colors, fonts, etc.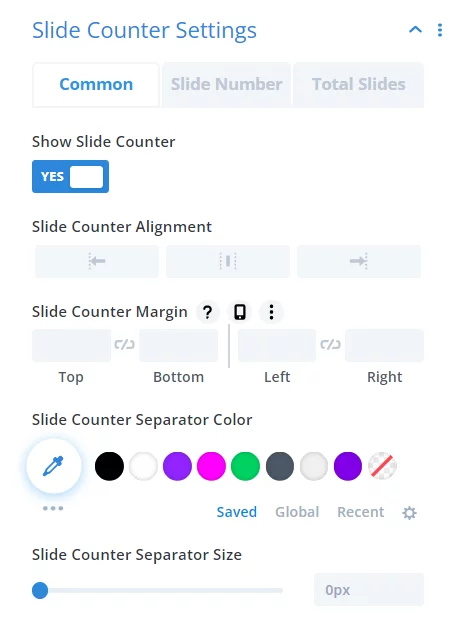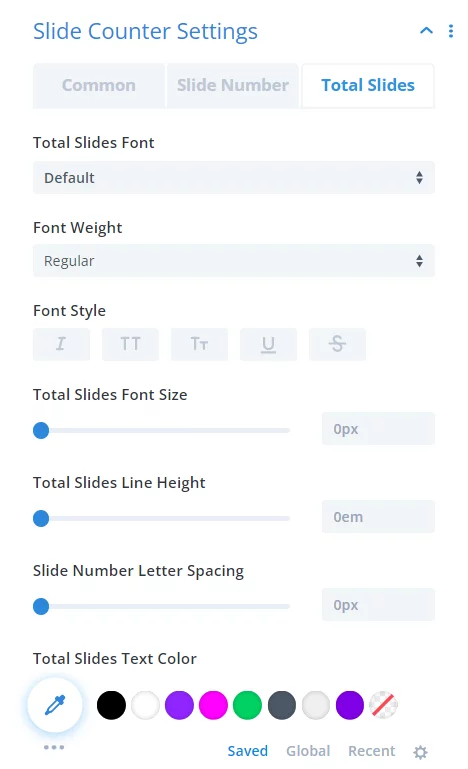 Here are a few examples showing the slide counter on some carousels:
Opacity For Navigation Controls
We have added opacity settings for both the active and default navigation controls. These settings apply to the dots, numbers, and images.
One of the best use cases for this new feature is for the thumbnail controls. Here is just an example of how you could set the default slides to something like 0.5 opacity and keep the active control as 1 opacity.
Equalize Image Pagination Thumbnail Width
On a related note to navigation controls, the thumbnail images also have a new feature to equalize themselves across the total available width. In other words, if you are using images as slide navigation controls, you can now make them fill the horizontal space. I'll show you with some before and after examples.
This is how it looks when the new setting is disabled:
This is how it looks when the new setting is enabled:
Pause Auto Scroll If Video Is Playing
This is a great new feature for your video carousels! Now when someone clicks to watch a video in the Divi Video module, the Auto Scroll feature will stop scrolling while the video is playing. This works for YouTube, Vimeo and HTML5. Now you can still use the Auto Scroll setting with videos without worry about the user experience!
Improvements & Fixes
As always, we are continually improving the plugin and keeping it up to date. This update includes several improvements and fixes in the backend, most of which only affect one or two customers, but we always make sure to include any fixes from our support team in each update.
Improved Free Swiping
In the past, if you enable the Unrestricted Swipe & Drag setting, it would only swipe one slide. Now it can swipe freely, like if you flick your finger fast, and it scrolls through multiple slides. This is a great feature to use on mobile since it is now a familiar behavior to other popular apps and websites.
FREE Downloadable Demo Layouts
Our demo site is reorganized, and now we have 113 example carousel layouts! Even better, we made each of them available to you to download for FREE, so now you can simply click on each section to download it and import it to your Divi Library. Be sure to check the docs for full instructions.
Documentation
As with all of our products, every setting and feature of the plugin is well documented! Every time we release a new update, we also have the documentation updated as well. So you can always check there for more information about any of the new features.
Go check out the plugin documentation area for a full list of the design settings, a guide to set up and customize the carousel, and all the other usual resources like FAQ, changelog, roadmap, and more.
View Product Page And Purchase
If you are not using this innovative plugin yet, I encourage you to check out the product page and learn more about the amazing features! Our plugin is extremely popular, and many people are finding it very useful and essential as they create websites with Divi.