What's New In Divi Responsive Helper Version 2.2
A Big Update With Lots of new settings
Our Divi Responsive Helper plugin continues to be one of the most popular 3rd party products in the Divi world, and for good reason — we are continually making it better! We love hearing your new ideas and developing new features, and are excited to release version 2.2 with new line height typography settings, new post count settings in the Blog, Gallery, Portfolio, and Woo Products modules, and tons of new settings related to the default menu and Menu module. Be sure to watch the video and browse the post below to get a full overview of everything that is new.
New Features
Responsive Settings For Post Count Per Device
The Divi Blog, Gallery, Portfolio, and Woo Products modules have a setting to enter the desired number of items to show. However, this is very limited because it does not have responsive settings, meaning the number of items that looks good on desktop will get super long on phones, and this is not a good user experience. It would be great to have responsive options for this, which is exactly what our plugin provides!
The latest version of Divi Responsive Helper plugin includes a responsive icon and tabs inside the existing Blog, Gallery, Portfolio, Filterable Portfolio, and Woo Products modules which allows you to enter the number of items you want to display on Desktop, Tablet, and Phone devices.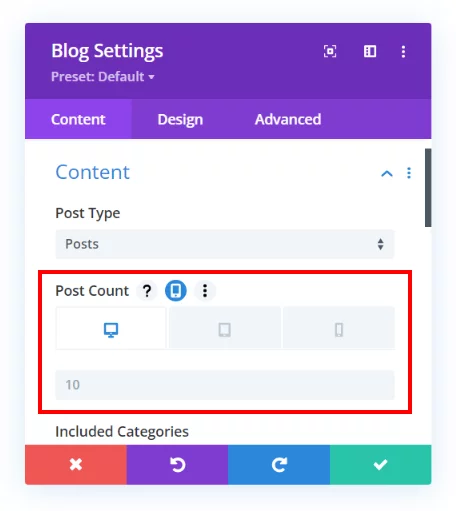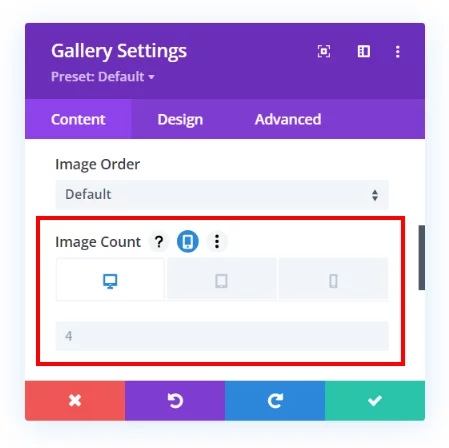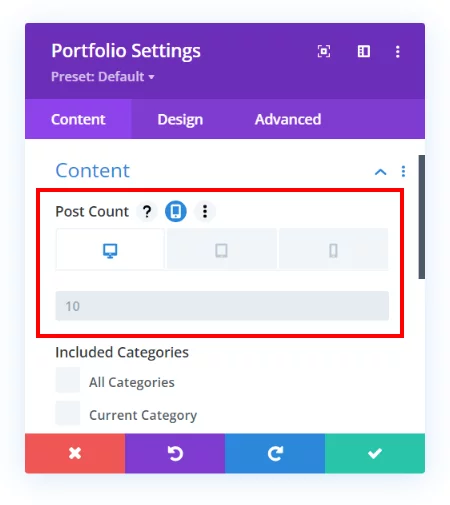 New Global Text Line Height Options
Until now, you could set global text sizes for all heading and paragraph text for each device instantly from Theme Options, but now we took it a step further and provide a line height setting as well!
NOTE: We renamed Text Sizes tab to Typography to better represent this change.
We also added some divider lines between each section to visually break it up and make it easier to see the group of settings. We also renamed the setting labels here to distinguish text size and line height.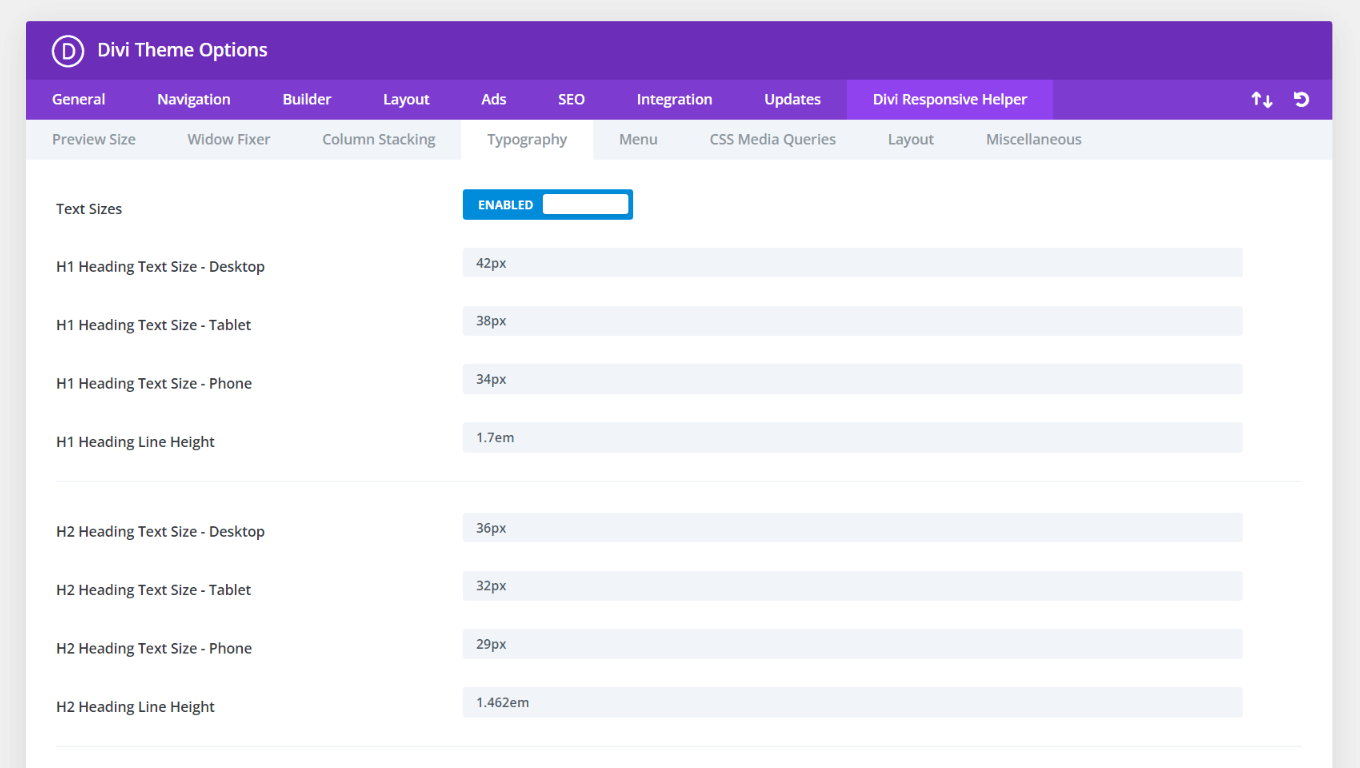 New, Rearranged, Updated Menu Settings
We have completely changed the menu settings. Now the settings in Theme Options affect the default header menu, and we added a new toggle and settings inside the Menu module. This is great because now the Menu module has full support for these settings, and each module can have different settings! Yay!
Some settings that existed in the previous versions are now available in the Menu module. And some settings are new to both the default menu and the Menu module. For more information, please refer to the full plugin settings list.
Show A Hamburger Menu On Desktop
This new setting allows you to replace the normal open Desktop menu with a hamburger menu instead.
Add Text Beside Hamburger Menu Icon
Sometimes you want to give a simple word beside the menu, like "Menu." Now you can, and you can customize the word or text as well. The word will appear to the left side of the hamburger menu icon.
Collapse Mobile Menu Submenus
In Div by default, all submenu items just show opened. This can lead to very long menus, and it's not very tidy and neat. This new setting solves this with a simple setting to collapse the submenus in your menu. It adds a small toggle icon to the side to open and close the submenu.
Open/Close Submenus By Clicking Parent Menu Item
This next new setting takes it a step further. After the submenus are collapsed, you can also choose to open and close the submenu by clicking the parent menu item. So for this, just keep in mind that it effectively disables the parent menu link. The parent link becomes the clicking point to open or close the submenu, just like the icon. 
If you are just learning about our revolutionary plugin and haven't purchased it yet, you should check out the Divi Responsive Helper product page.