Unbelievable New Features – Nothing Like this Exists
We have spent many months creating a set of very special new sharing options. We also updated the layout system to make it completely responsive, added new networks, and made tons of improvements. We are incredible happy to finally release the Divi Social Sharing Buttons version 2.0. Be sure to update your plugin and enjoy the new features. You can view our new docs, demos, and learn all about this update in the video.
New Sharing Options
Global Sharing Options
Normally, you are limited to sharing the featured image of a page/post, the page title, and any excerpt. But with this update, we have done something that I don't know of any other plugin doing, and that is giving you options to choose custom sharing options for the title, message, link, and image. This is a huge update, and was very difficult to create and test. There may be bugs, so please bear with us if you find some issues. But overall, we couldn't be more proud of this revolutionary idea, and we are so excited to announce this!
Below is a GIF showing a quick demo of this feature: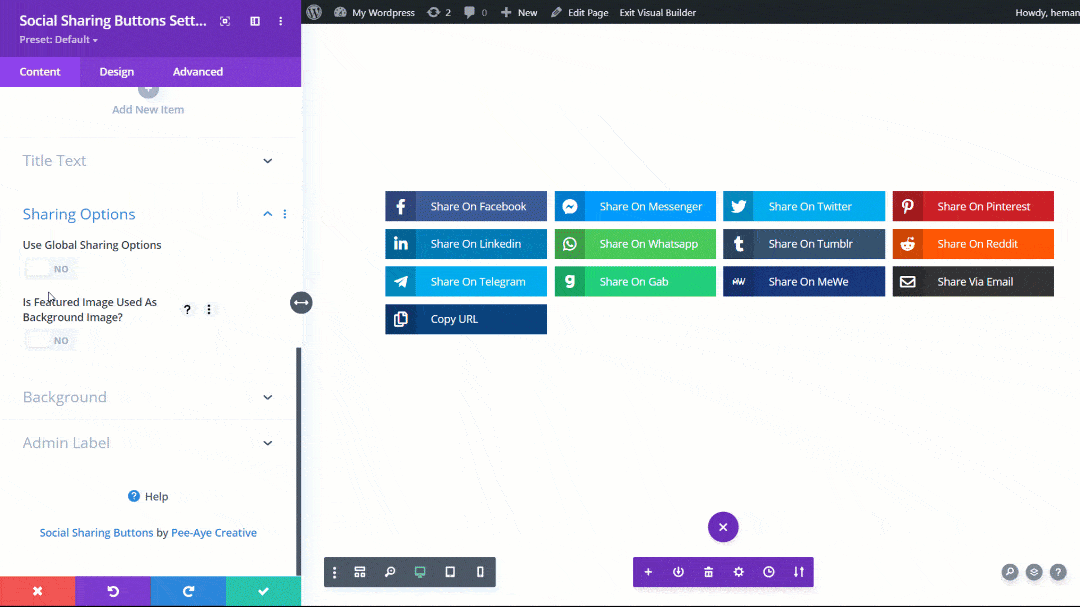 Let's take a closer look at some still images of these new features.
The screenshot above shows the main global sharing otions, meaning those would affect all the networks.
But the next screenshot below shows the same settings, but these are located within each indiviaul network. That's right, this means you can choose custom sharing options per network! Wow!
By default they are set to the defaults, but all you have to do is click on the dropdown and choose the custom option instead. Then a new setting will appear to enter the custom sharing option.
Choosing Custom Title brings up an input field for you to enter your own title text.
Choosing Custom Text brings up an text field for you to enter your own message "excerpt" text.
Choosing Custom Link brings up a field for you to enter your own URL link.
Choosing Custom Image brings up an image picker for you to add your own image.
Individual Network Sharing Options
These new sharing options are quite amazing. The ability to set them for all networks, or to override individual networks, is quite groundbreaking. Example: A really good use case for this would be Pinterest, setting a 2:3 aspect ratio image for the Pinterest network sharing image.
responsive Layout System
In the older versions you could set your desired layout but it would apply to all devices sizes. Now you have the option to choose a different layout for Desktop, Tablet, or Phone! And you can also change the number of columns per device! This is really great because you may want to have a certain layout on Desktop, but on Phone it is a smaller space so you could switch to Icon Only, No Text and change the number of columns and it would all be perfect. This may seem like a simple change on the surface, but this responsive layout system took a lot of work!
Below is a GIF showing a quick demo of the responsive layout options: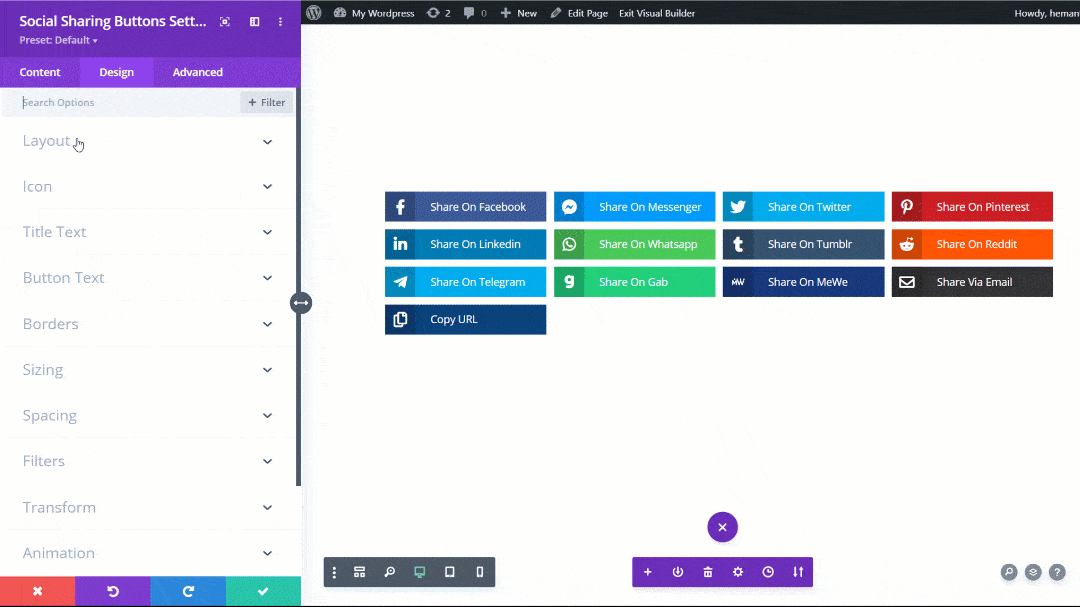 Below is a GIF showing a quick demo of the number of columns options: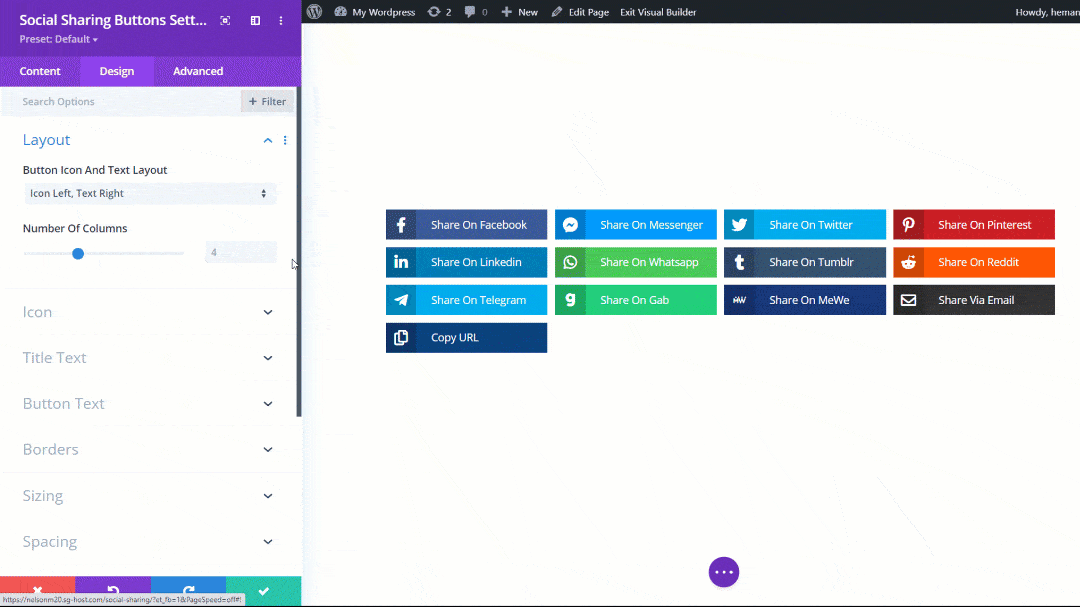 New Layout Options
New Icon Right, Text Left Layout
Along with the responsive layouts, we also added some additional settings. For starters, we added a new layout Icon Right, Text Left. It's not super exciting, but it was a request from customer and it does provide another option and now we have 5 layout options.
New Icon Only, No Text Width Options
There are also new settings related to the Icon Only, No Text layout. Now you can choose the width of the icon by selecting either Fixed or Equalized. Fixed makes the icons symmetrically square (or rounded if you prefer), meaning the height and width are the same. Equalized means the icon width will automatically adjust to be equally spaced within the available space based on the number of columns.
Below is a GIF showing a quick demo of this feature: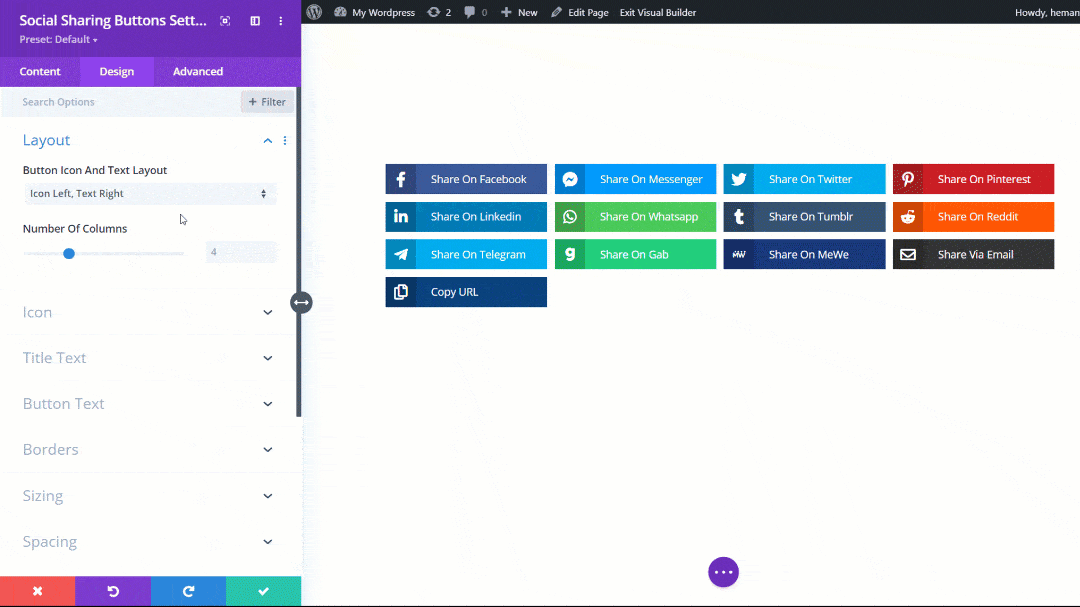 New Social networks
We have also added some additional social network options! We now have a total of 13 for you to choose. These new options added in version 2.0 are as follows:
Facebook Messenger
Telegram
Gab
MeWe
Copy URL
Obviously Copy URL is not a social network, but you get the idea. This is a great new feature for copying the link to the page or post so that users can share it directly however they want.
NOTE: We would love to hear your suggestions for new social networks! Please keep in mind that some networks have limitations, but if you see it in another plugin then it's possible for us as well.
Below is a GIF showing a quick demo of this feature: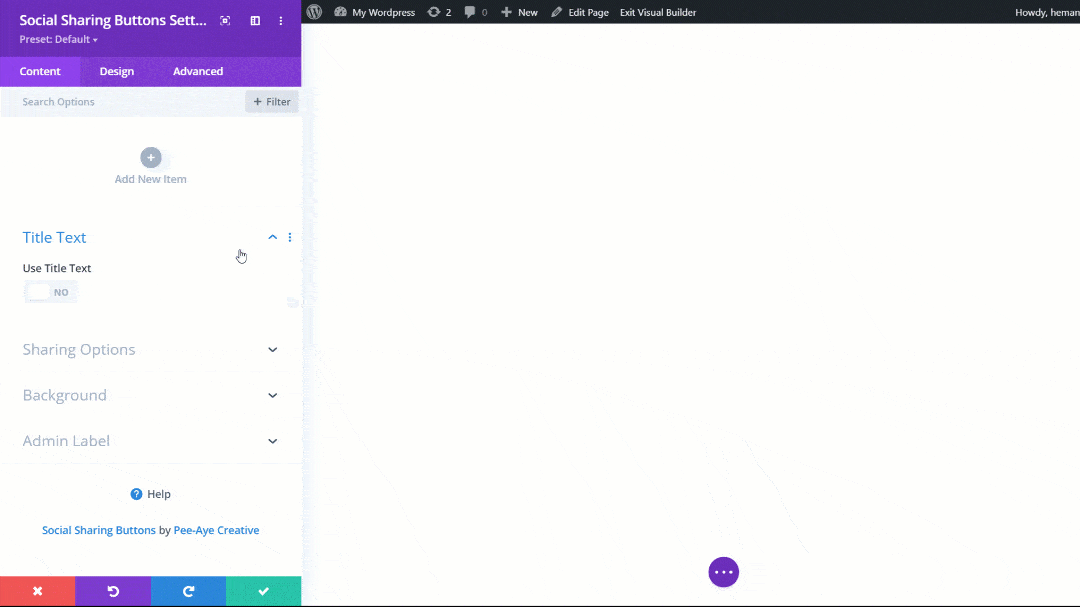 Other Improvements
Performance Enhancements
We have optimized the plugin code to include CSS file of Divi Social Sharing buttons only on those pages where it's being used to reduce the page load time on the frontend.
Bug Fixes
As always we have fixed a few bugs and other minor issues.
Terminology
We have made some minor changes to terminolgoy such as toggle names, setting labels, and help text.
Documentation
As with all of our products, every setting and feature of the plugin is well documented! Go check out the plugin documentation area for a full list of the design settings, a guide to set up and customize the module, and all the other usual resoures like FAQ, changelog, roadmap, and demos.