Documentation Overview Video
Installation Instructions
Preparation
Before you begin, make sure you have the Divi Theme by Elegant Themes installed and active. This is necessary since our product is completely based on Divi. Disclosure: The link to Elegant Themes is an "affiliate link" which means if you click on the link and purchase Divi, we will receive a commission.
Download
After purchase, download the .zip file from your Account page at https://www.peeayecreative.com/account/ or click the download link in your purchase confirmation email and save the file to your computer.
NOTE: If you purchased this product from a 3rd party marketplace such as the official Divi Marketplace or Divi Cake, the process of downloading the file may vary slightly. You will always be able to download the file from your account, no matter where you made the purchase.
Installation
You will install this plugin just like any other WordPress plugin. From your WordPress Dashboard, go to Appearance>Plugins>Add New and click on Upload Plugin. Locate the .zip file on your computer and click Install Now.
Once the file upload is finished, you can click on Activate. You will then see Divi Carousel Maker as an active plugin in your Installed Plugins list.
NOTE: Installing or updating this plugin may require you to clear your cache before the settings take place. This may include your browser cache, any caching plugin, and possibly even your CDN if you are using one.
Getting Started
Review The Documentation
Before you begin, we highly recommend that you get familiar with our plugin and review all of our documentation. In the list of links below, we have provided full guides for everything you need to know about using this plugin.
You can also browse the other resources like answers to common questions, the changelog, demos, free layouts, and the roadmap.
NOTE: We often get emails about questions that are clearly explained here, so please do us both a favor and look for what you need before contacting us.
How To Enable A Carousel
Once the plugin is installed and active, additional settings to create and design a carousel will appear in all of the Divi column settings in the Divi Builder. To find this, first go into the Row settings and then into the Column settings. There you will see this new fourth tab called "Carousel" which is added by our plugin. Inside that Carousel tab you will see a toggle called "Carousel Settings." Click to open this toggle and then you will see the setting called "Make This Column A Carousel." This setting is off by default, so you need to turn it on to enable the carousel. Any modules added to this column will be displayed in the carousel.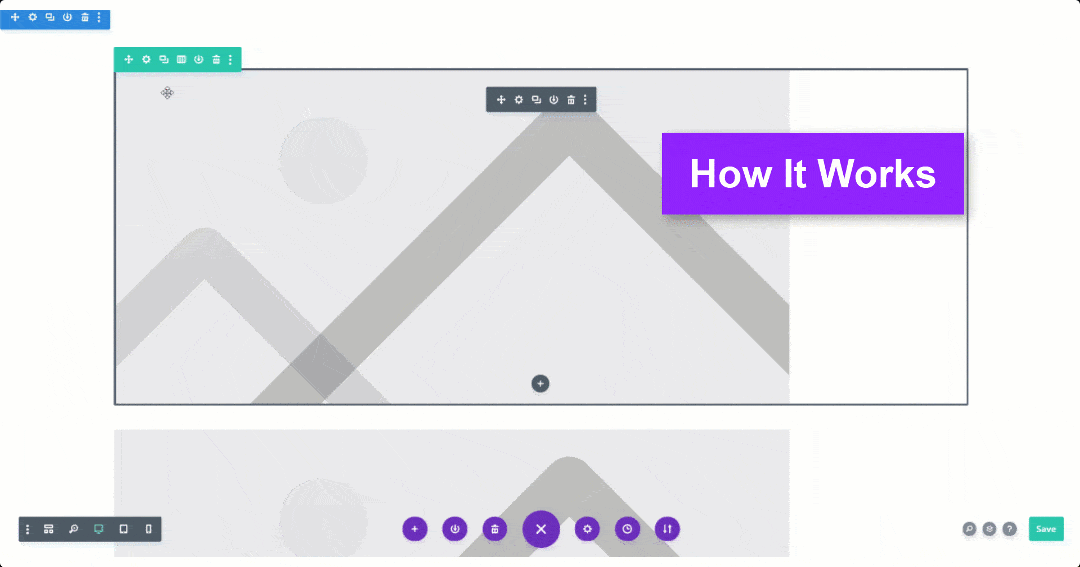 Adjust The Carousel Settings And Design
After enabling the carousel, all of the other carousel settings will appear below. These settings give you complete control over the functionality and design styling of the carousel. Below are some of the main groups of settings which provide very thorough information about each setting.
Go ahead and explore the settings and adjust everything as needed. Be sure to save your changes, and now when you exit the builder you will see the modules transformed into a working carousel!
Due to the unique nature of this plugin and the limited ability to customize the core Divi Builder, it is not possible to provide a preview of the carousel in the Visual Builder. The carousel settings will take effect when you exit the Visual Builder. If Elegant Themes makes this possible in the future, we will definitely add support. Please refer to our FAQ explanation to Learn More.
The general carousel settings allow you to set up and adjust some important features which affect how your carousel works. This includes things like how many modules to show per device, spacing around the carousel and modules, module width, vertical alignment, and cut off mode.
These features allow you to control how the carousel moves and functions, and are great for creating the perfect user experience for your visitors viewing the carousel. This includes options like auto scroll, continuous smooth scroll, animation speed, scroll interval timing, infinite scroll, and scroll direction.
You can control the carousel scrolling with two different navigation options. These options are navigation arrows which can be positions in many different locations, or navigation control dots. Both options include all the necessary position, alignment, and design settings. You can even adjust each setting per device to make everything responsive.
You can make the center module in the carousel stand out from the others to draw attention and focus. When this option is enabled, additional design settings will appear to adjust the size, opacity, and blur of the other modules.
There are eleven different hover effects to choose from such as grow, shrink, bounce, pulse, wobble, etc. and each of those allow you to adjust the settings such as the animation duration and other values. These elegant hover effects provide a very nice user experience for website visitors.
These settings are spread throughout all of the other settings, allowing you to change almost everything per device on Desktop, Tablet, and Phone. These thoughtful and helpful settings truly set our plugin apart even more, providing exactly what customers and visitors need!
Plugin Updates
License
Our products are eligible for automatic updates to all customers with active licenses. Any time we push out an update with new features, improvements, and bug fixes, you will see a notification in your WordPress dashboard. If we have a big update with important information we will also send out an email, so be sure to stay subscribed for that information. Please refer to our Product License Information for more details.
How To Get Plugin Updates
The update process will be the same whether you have an annual or a lifetime license. The main thing is to be sure you have an active license, otherwise you will no longer receive updates.
You can check out our plugin updates overview video explaining how easy it is to update our plugins.
Marketplaces Disclaimer
We sell our plugins at several different 3rd party Divi product marketplaces. Any information on our website about updates and licenses apply to products sold at Pee-Aye Creative on our own website and do not necessarily apply to products purchased from other marketplaces.