Overview
One of the biggest new features in version 2.0 is the ability to add any layout, section, row, or module saved to your Divi Library into the carousel! That's right, now any layout you design can be a single slide! To do this, you will need to use our new Carousel Layouts module, which was necessary for us to create since our carousel is unique and uses modules as slides. So now each layout becomes a single module, aka slide. This new Library Layouts module simply acts as a bridge to create carousels using Divi Library layouts with our plugin. Just add the module to your column, use the checkboxes to select which Divi Library layouts to include in the module, and enable the carousel.
The best way to take advantage of this new feature is by creating sections or rows. The greatest part about it is the ability to make sections with multiple rows, and rows with multiple modules, and yet still use them as only one single side. This is truly groundbreaking! 
NOTE: Only one Carousel Layouts module is used per carousel. 
NOTE: Each layout in the library = one side. This means you probably will want to set the number of columns in the carousel settings to only 1.
NOTE: You cannot mix regular modules with this Carousel Layouts module. You can either use all regular modules without this module, or only this module.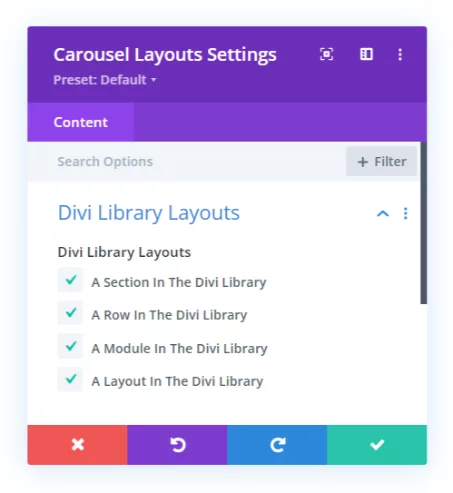 This is a truly groundbreaking feature that allows you to make even more advanced and beautiful carousels.
The Divi Library layout slides will appear in chronological order according to the date they were created. Because of this, in order to adjust the order of the slides, you may need to go to your Divi Library and use the Quick Edit feature to change the date of each layout so that your slides appear in the order that you prefer.