Overview
You can customize the event category pages using the Divi Theme Builder and the Divi Events Calendar plugin. Our Events Feed module has feature called "Dynamic Event Content" which allows you to add the module to a Theme Builder template which will then show events automatically based on the category. This allows you to create the template once and yet have it apply to all event categories dyanamically. It is quite easy to set up, and this video and written guide will walk you through the process.
Create The Divi Theme Builder Template
The first thing you need to do is go to the Divi Theme Builder. You can find that from the Dashboard under the Divi menu, Divi>Theme Builder.
The Theme Builder is an absolutely amazing tool, and if you are not using it yet, I highly recommend you learn how.
Create & Assign A Template
Go ahead and create a new template. To do that, just click on "Add New Template." In the popup, click on "All Event Category Pages."
Then click the blue button at the bottom of the popup that says "Create Template."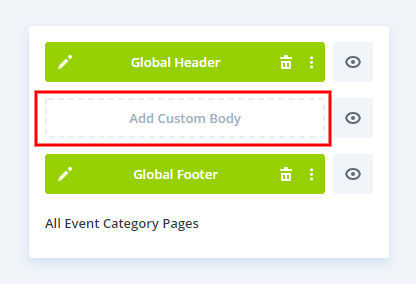 Next, click on "Add Custom Body."
This will bring up a new popup again. In that popup, click on "Build Custom Body."
Add The Events Feed Module
At this point, you can design the layout however you want. The important step here is to make sure you turn on the toggle called "Dynamic Event Content."
You can use any layout or design style you want, just remember that this layout is for categories. So any time someone clicks on an event category, this will be the layout they see. I suggest adding a text module and use dynamic content for the "Archive/Page Title" and anything else you want to use!