Overview
Because of the new feature in version 1.4 of the Divi Event Calendar called "Dyamic Event Content," we are able to create dynamic search results in the Events Feed module!
This works by creating a Divi Theme Builder template assigned to the Search Results. Using the Events Feed module with the "Events For Current Page" toggle turned on, the even search results will dynamically display exactly how you design and style the layout in the Theme Builder template.
NOTE: For the actual search bar we are using Post Type Search Module for Divi plugin which adds a custom module to limit the search results to the post type of your choice. In our case, we are limiting the search results to events. You could also use the regular Divi Search module if you want, but we thought this one was better. In the future we may add our own search module.
Check out this post and video!
How To Search Custom Post Types In Divi And Create A Search Results Pages
Create The Divi Theme Builder Template
The first thing you need to do is go to the Divi Theme Builder. You can find that from the Dashboard under the Divi menu, Divi>Theme Builder.
The Theme Builder is an absolutely amazing tool, and if you are not using it yet, I highly recommend you learn how.
Create & Assign A Template
Go ahead and create a new template. To do that, just click on "Add New Template." In the popup, click on "Search Results."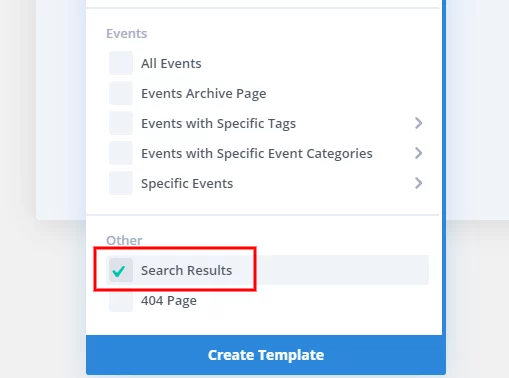 Then click the blue button at the bottom of the popup that says "Create Template."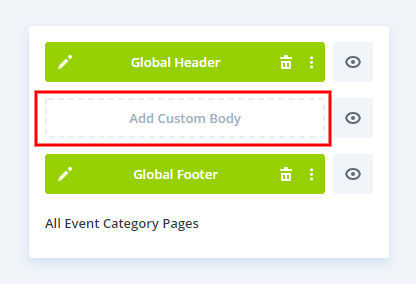 Next, click on
"Add Custom Body."
This will bring up a new popup again. In that popup, click on "Build Custom Body."
Add The Events Feed Module
At this point, you can design the layout however you want. The important step here is to make sure you turn on the toggle called "Dynamic Event Content."
You can use any layout or design style you want, just remember that this layout is for categories. So any time someone clicks on an event category, this will be the layout they see. I suggest adding a text module and use dynamic content for the
"Archive/Page Title"
and anything else you want to use!
That's all there is! You an also use this same process for creating dynamic category pages, so be sure to check out our other doc for that!