Overview
Welcome to the documentation for the Divi Social Sharing Buttons plugin! On this page, you will find all the steps you need to set up and use our plugin. Each step provides a summary of information related to that step in the process. You will also notice links to separate documentation guides in the steps below. Please be sure to follow all of these steps and access the additional resources as needed.
Overview Video
This video provides a brief summary overview of the written steps outlined in the document below. You are welcome to follow the video and written steps together.
1. Install Divi
Install And Activate Divi
Before you begin, make sure you have the Divi Theme by Elegant Themes installed and active. This is necessary since our product is completely based on Divi.
Disclosure: The link to Elegant Themes is an "affiliate link" which means if you click on the link and purchase anything, we will receive a commission.
2. Download Divi Social Sharing Buttons
After completing the purchase of our Divi Social Sharing Buttons plugin, download the file to your computer. The plugin file ends with ".zip" at the end of the file name.
Purchased From Pee-Aye Creative
If you purchased the plugin here on our website, you can download the file from your Account page at https://www.peeayecreative.com/account/ or click the download link in your purchase confirmation email and save the file to your computer.
Purchased From Divi Marketplace or Divi Cake
If you purchased this product from a 3rd party marketplace such as the official Divi Marketplace or Divi Cake, the process of downloading the file may vary slightly. You will always be able to download the file from your account, no matter where you made the purchase.
3. Install The Plugin
Now that you have Divi installed, and the plugin downloaded, you are ready to install the Divi Social Sharing Buttons plugin. Installing our plugin works the same as installing any other WordPress plugin. From your WordPress Dashboard, go to Appearance>Plugins>Add New and click on Upload Plugin. Locate the plugin .zip file on your computer, which selects the file to up, and click Install Now.
Once the file upload is finished, you can click on Activate. You will then see Divi Social Sharing Buttons as an active plugin in your Installed Plugins list.
NOTE: Installing or updating this plugin may require you to clear your cache before the settings take place. This may include your browser cache, any caching plugin, and possibly even your CDN if you are using one.
4. Add Your License Key
It is important to activate the plugin license key now in order to ensure that you get automatic updates and support. 
Purchased From Pee-Aye Creative
If you purchased this plugin from our own website, then you can find your license keys in your Account area. Please review the Product License Key Management documentation for all the information you could need about this step.
Purchased From Divi Marketplace or Divi Cake
License keys are handled by the marketplace. Updates are validated using your Username and API Key, so be sure to add these credentials to the Divi> Theme Options> Updates tab on your website. You can refer to the Divi Marketplace Customer FAQs for more info.
5. Decide Where To Put The Module
The best part about the Divi Social Sharing Buttons is the versatility. You can place it anywhere, just like any other Divi module, and style it however you want. Where you place the module depends on what type of website structure you have and what content needs to be shared. Here are two ideas for where you could use the module on your Divi website.
Add Directly To The Page Or Post
One option is to add the Divi Social Sharing Buttons module directly to a page or post. This would be fine if you only want the sharing buttons to be shown on a few pages at a specific location. Obviously, this is totally up to you, but we suggest considering the Divi Theme Builder option below.
Add To A Theme Builder Template
Adding the Divi Social Sharing Buttons module to a Divi Theme Builder template makes a lot of sense. This allows you to set the module up once, and then have it apply globally all at once to any footer, page, post, or post type. This allows you to set up and design the buttons once, saving you time and effort.
A good example of when to use the sharing buttons with the Divi Theme Builder is on a blog post template. You could place the module at the top or bottom of the template, allowing the user to share the post at the beginning or after reading the post.
This would also work very well for WooCommerce products, adding the module to the product page template.
Or you could place this on single event pages using our Divi Events Calendar plugin! Of course, we think this is a great idea 😉
And don't forget, you can place the Divi Social Sharing Buttons module on any other page or post type as well!
You could put this in the website footer template as well to encourage users to share your website. It is totally up to you, and we hope you enjoy the versatility that our module offers.
6. Add The Module To Your Layout
Now that you have decided where to place the module, you can add it to your Divi Builder layout. Within the Divi Visual Builder layout, click the gray plus button to add a new module. The quickest way to find the module is to use the search bar and type "social." You will then see our custom module, which is named "Social Sharing Buttons." Click on the module to add it to your layout.
7. Add Social Network Buttons
The first thing you need to do when you add the module to your layout is to add the social networks that you want to show. You will see a plus button to add new networks inside the main Content tab of the module. As you add new networks, they will appear here in a list, and you could rearrange them as needed. You can click inside each individual network to edit the settings. You can learn more about this in the Network Settings documentation.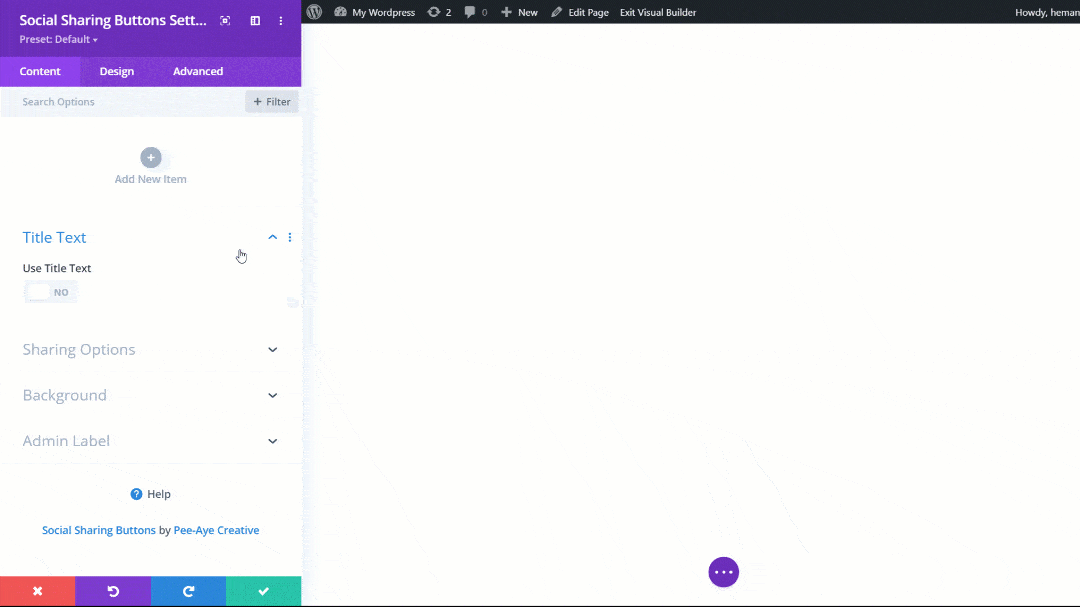 8. Choose A Layout Option
After adding the networks, the next important step is choosing which layout option you want to use to display the buttons. The module comes with five different button layout options. Depending on which layout option you choose, there will be other options that appear below. You can learn more about these in the Layout Settings documentation.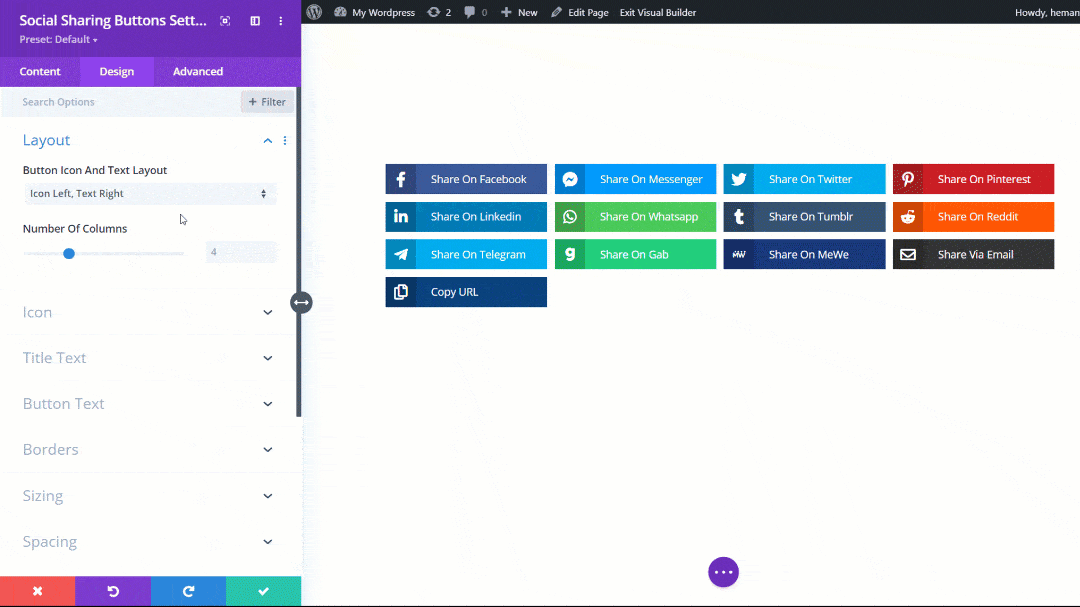 9. Adjust The Number Of Columns
Next, make sure to adjust the number of columns that you. The number of columns needed may change depending on which layout option you choose in step 8.
Perhaps the greatest features of the layout system are the responsive options. Not only can you choose the number of columns or the type of layout, but you can choose a different layout or a different number of columns per device! That's right, this new system allows you to change each setting for Desktop, Tablet, or Phone!
Don't forget to change the layout and/or number of columns for each device!
Pro Tip:
Consider using a different layout on smaller devices
Adjust the number of columns per device according to the layout.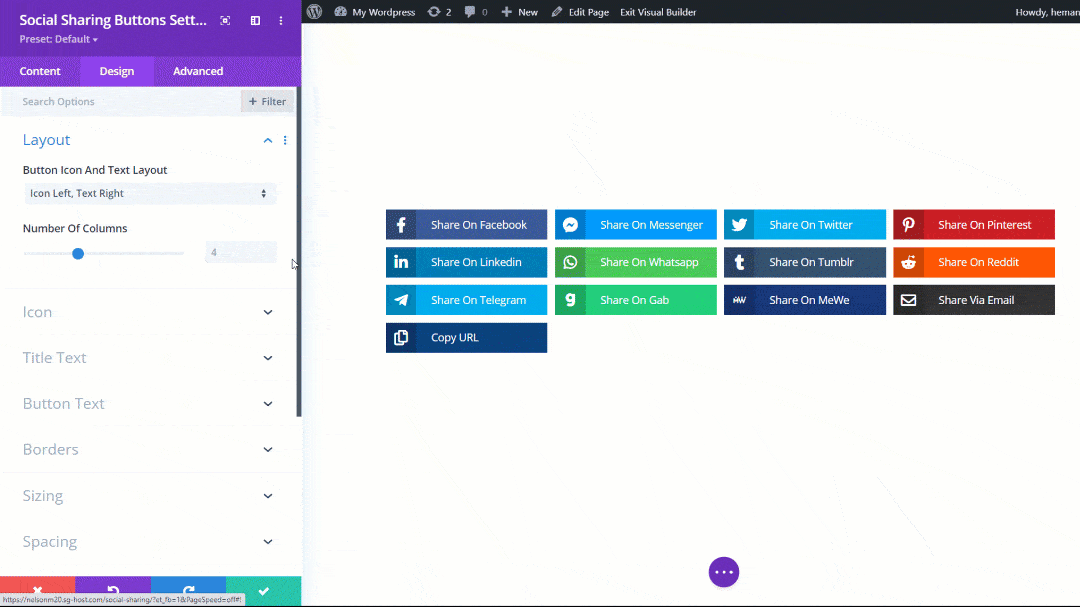 10. Adjust The Design Settings
At this point, you can adjust any design setting in the module. This is all totally up to you, and there are hundreds of possibilities. We made it a goal to provide every design setting we could think of for you to easily customize and style the social sharing buttons. These settings include things like writing your own custom text, changing the icon and button size, colors, spacing, borders, box shadows, and so much more. These settings are mostly found in the module's Design tab, but some are located throughout the other tabs. One thing to keep in mind is that the module contains main content and design tabs that affect all the buttons globally in the module, but then each individual network also contains those inner tabs as well, which can be used to override any of the global settings for each button. You can learn more about the design settings in the Design Settings documentation.
11. Choose Sharing Options
Sharing Options allow you to set the custom information like the title, message, link, and image that you see while sharing the post on social media networks. Normally, you are limited to sharing the featured image of a page/post, the page/post title, any excerpt, and of course the link. But with the Divi Social Sharing Buttons module, you now have some unique and useful settings to choose a custom title, message, link, and image. You no longer need to depend upon the defaults, which opens up many new use cases. You can learn more about this in the Sharing Settings documentation.
12. Make Everything Responsive
The Divi Social Sharing Buttons module has responsive settings for most of the settings, exactly like other modules in the Divi Builder. This allows you to change the values or the options for Desktop, Tablet, or Phone. It is totally up to you if you feel your layout or design requires responsive adjustments. Some settings are fine across devices, while others would be better if they are adjusted. Feel free to change pretty much every possible setting, like colors, font sizes, icon sizes, layout, number of columns, button border color, background color, etc. You can learn more about the responsive settings in the Responsive Settings documentation.
13. Plugin Updates
Any time we push out an update with new features, improvements, and bug fixes, all customers with an active license will see a notification in your WordPress dashboard. The update process is exactly the same for our plugins as it is for any other WordPress plugin. Learn more about product updates in our documentation. There are some important steps to take, including making a backup, testing on a staging site, and clearing your cache.
Blog Posts/Videos
Every time we release a major new update, we also create a written post and video highlighting all the new features. Be sure to keep an eye on our blog for all the exciting updates! You can check out the past updates on our blog as well.
14. Other Resources
This main page of our product documentation and the additional links provide everything you need to know to get started. But don't forget to take advantage of our other resources as well. Take a moment to browse and reference all the documentation links such as the frequently asked questions, the product changelog, known issues, troubleshooting steps, and the roadmap. We want you to be able to easily find everything you could need, so we spend a lot of time continually updating everything for your convenience.
We hope you enjoy using Divi Social Sharing Buttons! Please be sure to browse all the documentation links, and
if you can't find what you need, we're happy to help! You can reach out to us by completing the form on our support page. We are confident that most questions you face are already covered here in the documentation.
Please let us know if you have a general question not covered here, or if you face any technical issue.