Open Toggle With Link
We have a lot of toggle and according tutorials, but there is always room for more! This one is great for FAQ sections to link from a list of questions to a list of Toggle modules and automatically open the toggle. So in the tutorial I will show you how to automatically scroll to and open a Divi Toggle module by linking to it.
Join subscribers on our YouTube channel and enjoy other Divi video tutorials!
1. Add A Custom CSS ID To The Toggle Modules
The first thing to do is add a custom CSS ID to the Divi Toggle modules that you want to open. Each toggle ID must be unique. So you could do something like pa_toggle_1 in the first one, pa_toggle_2 in the second one, and so on. Open the module settings and go to the Advanced tab. Go to the CSS IDs & Classes toggle. Place the ID in the CSS ID input field of each Toggle module.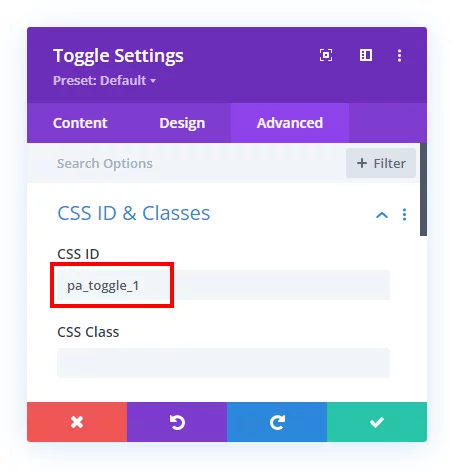 2. Add The CSS ID In The Link
Next you need to match the link to the toggle by using the same CSS ID in a button or other link. You just need to add the CSS ID as the anchor link. Clicking this link will just scroll down the page to the Toggle and open it!
If you are using a Button module, open the settings and go to the Link toggle and place the same CSS ID used in the Toggle module into the Button Link URL field.
3. Add A CSS Class To The Buttons
In the same button module, go to the Advanced tab to the CSS ID & Classes toggle and place the class "pa_toggle_buttons" into the CSS Class input field.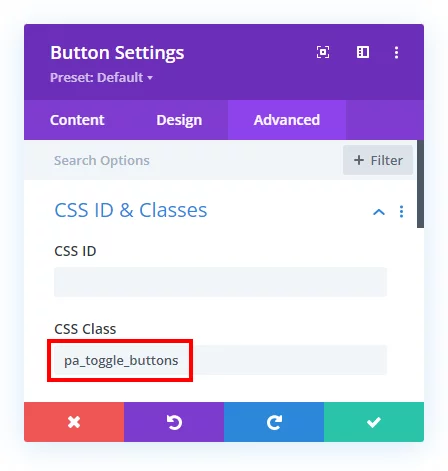 4. Add The jQuery Snippet To Open The Toggles
The last step is to add the jQuery snippet below to your website. This snippet does the work of opening the toggle modules when you click the button/link. 
If you are using our free Divi child theme, place this snippet into the scripts.js file and remove the <script> tags at the beginning and end. Otherwise, place this in your Divi>Theme Options>Integrations tab in the "Add code to the < head > of your blog" code area.
<script>
  jQuery(document).ready(function(){
    jQuery(".pa_toggle_buttons").each(function(){
        jQuery(this).on("click", function(){
            var id = jQuery(this).attr("href");
            if(jQuery(id).hasClass("et_pb_toggle_close")){
                jQuery(id).children(".et_pb_toggle_title").click();
                
            }
        })
    })
})
</script>