Introduction To Divi Backups
You may have noticed we are creating tutorials related Divi Maintenance. These are some of the most important guides we have ever created, and yet they seem to be overlooked or ignored by many until it is too late. Don't let this happen to you! Everyone should know the importance of a website backup and know how to use one to restore a site if something bad happens. In this tutorial, I will show you how to create a backup of your Divi website and explain why they are so important.
Join subscribers on our YouTube channel and enjoy other Divi video tutorials!
An Intro To Divi Website Backups
What Is A Backup?
A website backup is a copy of the live website taken at a specific moment in time. Often this is referred to as a "snapshot" and I suppose this terminology is pretty good. If you think of taking a photo, it captures the exact scene at that particular time and place. This is similar to a website backup. It captures all the important parts of the website at a given time and stores it on the server or another location to be used later if necessary.
What Is Included In A Backup?
A backup may consist of the entire site including all the files and database, or it may only contain selected files. In general, the more files included in the backup, the better. But keep in mind, those also take up more space on the server or computer. Sometimes you only need to back up the database, or only the plugins, or only certain pages or media. It all depends on the situation. For daily backups, I recommend a full backup. This would include the website files, the databases, images, plugins, and themes.
What Are Backups Used For?
In general, backups are primarily used as insurance in case something goes wrong with the site. If you get hacked, or your website crashes, or you make some update or change that you regret, a backup allows you to restore your website to its previous correct state at a time before the issue occurred. Backups can also be taken before a site redesign just to have the old version on hand or to compare. They can serve as a way to migrate a site for testing, but we recommend a dedicated migration plugin for this instead. Backups and a staging site can work in tandem. (If you haven't checked out our guide on How To Create & Use A Divi Staging Site then please do). If you are facing some issue on the live site, you can restore a backup and then troubleshoot the issue on the staging site.
When To Take Backups?
Making backups of your Divi website should be a regular step you take in your site maintenance. All the best hosting companies take a backup at least every day and store them for 30 days, but some offer even more frequency. Daily backups are very important, and I highly recommend them. But you should also prompt or take a manual backup before major site or code changes or other milestones such as making a new site live. If you are not using a staging site, then backups become even more important for testing updates to WordPress, Divi, and plugins.
Why Is A Divi Backup So important?
I hope that the reasons for having a backup are obvious. You don't want to be left without a backup if something happens to your site. Keeping regular backups ensure you that you have a way to bring your website back without having to rebuild it from scratch. Unless you enjoy stress, panic, and headaches, then a backup is a very simply way to ensure peace of mind. I often refer to it as insurance, but it is more than that. It helps to know that no matter what craziness happens, you are prepared and have a copy on hand, just in case. Don't be one of those people who learn the hard way. I can tell you personally I have been very thankful for backups on several occasions. It is well worth the few seconds it takes to create one, and well worth paying for a good hosting company that has this built into your account. If you are updating old plugins, themes, or the WordPress core, or if you are adding custom code, then give yourself a pat on your back knowing that you always have a backup.
Method #1: Create A Divi Website Backup Using Your Hosting Provider
The Easiest And Recommended Method
The easiest method, and the one I recommend, is to use your hosting provider's built-in backup feature. This will be the easiest and seamless method, usually an automatic and/or 1-click functionality that is pretty awesome to use. There is none to very little work involved with this method. Most companies create daily backups and keep them for 30 days. Others may offer even more frequency and longer duration.
All Good Hosting Companies Have A Backup Feature
All good hosting companies offer website backups as a feature. I am alarmed to learn that many WordPress and Divi users are not using backups, or even worse, that their cheap hosts are not providing this basic feature for free! Shame on any host not including this! If your host does not provide a backup feature built-in, then I will be blunt. Switch hosts! If they don't offer it, then quite frankly they are not a good hosting company because having the ability to backup your website is an absolutely essential feature. Be sure to check our recommended hosting providers for Divi!
Locate The Backup Feature In Your Hosting Account
If you are new to this topic, I suggest opening a new tab right now and logging into your hosting account. Try to find the information about backups. If you need help finding it, check their documentation or contact their support. It is very important to understand where the feature is located, and how to do backup and also restore your website.
Become Familiar With The Backup Feature
If you are using one of our recommended hosting providers for Divi, then you can follow the instructions provided in the next few steps. We cover Siteground and Cloudways in the video and written guide, but if you use another company it should be pretty similar. Try to find the same settings in your hosting account and follow along.
Siteground Hosting Website Backup Example
Siteground is one of my personal recommended hosts for Divi. They have their own built-in backup and restore tool that is really easy to use! If you are using Siteground and want to create a backup of your website, be sure to follow their own full guides on their site: SiteGround Backup Tool.
To create a website backup with Siteground, you need to follow these steps:
Create A New Website Backup
Go to the Siteground and login into your account. From the Websites tab, locate the website and click on Site Tools. Once inside the Site Tools, click on Security in the menu on the left-hand side and then click on Backups.
Here you will see a list of all the backups from the past 30 days. These are automatically enabled in Siteground, so there is no need to do anything.
If you want to create a new manual backup, this is very easy. Just look for the option to "Create New Backup" and type in a name. Then click the orange "Create" button to create your website backup.
The system will then process the request, and when it is completed you will see a confirmation stating the backup has been created.
Restore A Backup To The Live Site
If you had some issue with the site and want to restore a backup, first decide which backup to restore. Then click the contextual menu to reveal the available restore options that Siteground provides.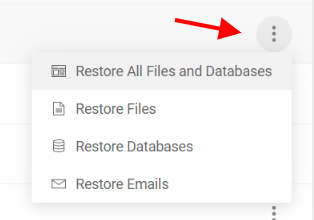 You can see that there are three main options for the website. Since Siteground does a full backup of the files and database by default, you would almost always want to choose the top option to Restore All Files and Databases.
It will then give you a popup box asking you to confirm with a reminder that restoring the selected backup will replace all of your current files and databases.  
Cloudways Hosting Website backup Example
Cloudways is also one of my personal recommended hosts for Divi. They have their own built-in backup tool that is really easy to use! If you are using Cloudways hosting and want to create a website backup, be sure to follow their own full guides on their site: How to Backup a Specific Application.
To create a website backup with Cloudways, follow these steps:
Manage Server Backups
Log into your Cloudways account and go to your server settings. This is where the backups are configured for your entire server and applications. From the menu on the left side, and click on "Backups." 
Here you will see the backup settings. You can schedule a time for the backups to take place automatically, set their frequency, and choose how long they are retained on the server. You can choose from 1 hour to 7 days for the frequency, and up to 4 weeks for the retention.
Backup And Restore An Application
To create a backup or restore a backup of an individual application, navigation to the application and click on the  "Backup And Restore" item in the menu on the left side.
From this screen, you can see the options to either backup or restore your application. These options are pretty self-explanatory.
To create an on-demand backup of the entire application files and databases, click "Take Backup Now" it will process the backup and give a confirmation when completed.
To restore the site, you can choose the date and time from the dropdown and then click "Restore Application"
Method #2: Create A Divi Website Backup Using A Plugin
Creating a backup using a WordPress plugin is as simple as creating a backup with the hosting company. There are tons of plugins that can be used to create a backup. Just go to the WordPress plugin repository and do a search, and you will see exactly what I mean.
One of the options that will probably come up first is called UpdraftPlus. It has over three million active installations and a very high rating on the Plugin Repository. It is a popular choice for taking a backup of your databases and web files, and they can be easily restored with a single click.
Whether you use this plugin, or one of the many other options, there will undoubted be some common features. The main thing to look for after installing any backup plugin is the settings. Be sure to review documentation provided by each plugin, and it should be easy.
With UpdraftPlus, they create a new menu item in the left side menu and also in the admin bar at the top. Clicking into the settings page will bring you to the Backup & Restore tab. You will clearly see a large blue button that says "Backup Now."
Once you click the button, a popup will appear with some options. Go ahead and leave those as they are and click the Backup Now button.
You will get a confirmation that the backup has finished.
The backup will now appear in the list at the bottom of that page. 
You can choose to download the backup files if you want.
To restore the files, click the blue "Restore" button and it will prompt you to select which options you want to restore.
Divi Specific Backups
So far, we have only talked about taking an entire backup of your website. But Divi also has some of its own "backup" features which you may not have considered, so I would like to point these out.
Theme Options
Customizer Settings
Theme Builder Layouts
Page Layouts
Divi Library Layouts
Create Divi Theme Options Backup
Did you know, you can save yourself some time on new websites by exporting and importing the Divi Theme options? But you can also use this portability feature as a backup.
When you go to Divi>Theme Options you can see the up/down arrow icon in the top right corner.
Click the icon and you will get a Portability popup box like this:
Go ahead and export the Divi Theme Options file and save it on your computer.
Create Divi Theme Customizer Settings Backup
I don't user these anymore, but if you are still living in the past and use the Divi Theme Customizer, then you can also export these settings and use them as a backup. When you go to Divi>Theme Customizer you can see the up/down arrow icon in the top left corner.
Click the icon and you will get a Portability popup box like this:
Go ahead and export the Divi Customizer settings file and save it on your computer.
Create Divi Theme Builder Backup
This is one of the most important Divi backups you can make. Having a Theme Builder template backup has saved the day for me in the past. I highly recommend taking a backup of the Divi Theme Builder at least once when you are done creating a site.
The Theme Builder has the option to export each template individually, but it also has an option to export them all at once, and this is less time-consuming.
Go to the Divi>Theme Builder and look for the up/down arrow icon in the top right corner of the page. 
Click the icon and you will get a Portability popup box like this:
Go ahead and export the Divi Theme Builder templates file and save it on your computer. 
Create Backup Of Visual Builder Layouts
If you want to backup individual Divi page layouts, you can certainly do that as well using the portability feature. Go to the page you want to export and enable the Visual Builder. Open the page settings menu and click the up/down icon to bring up a popup where you can enter a name for the layout. Click the blue export button to export the layout as a JSON file and store it on your computer.
Create Backup Of Divi Library Layouts
I personally have never felt the need to do this, but if you want you could also make a backup Divi Library layouts. Simple go to Divi>Divi Library and click on the Import & Export button in the top left corner of the page.
Click the button and you will get a Portability popup box like this: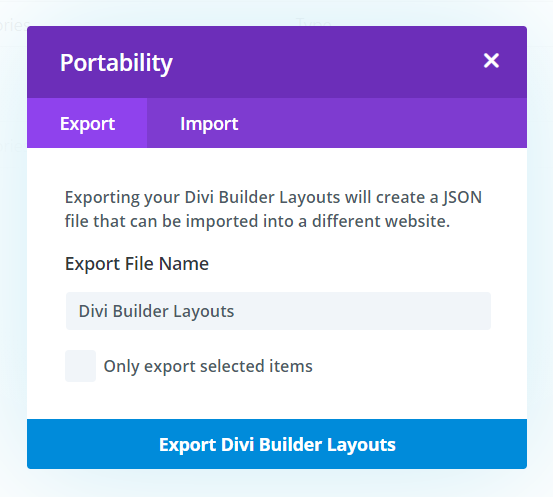 Go ahead and export the Divi Library layouts file and save it on your computer.
Create WordPress Media Library Backup
The hosting and plugins backup methods that we already discussed also include the files located in the WordPress Media Library. But depending on your reasons, you may want to backup the images and files separately. 
You will need to access your website files. This can usually be done in your hosting account, cpanel, or via FTP. Another option is to use a file manger plugin. Either way, you need to access the uploads folder on the server, which is always located at public_html>wp-content/uploads. Here you will see a folder named "uploads." Just select that folder (compress it if there is an option for that in your hosting) and download it. And now you have all the website media files backed up on your computer.