A Short Simple Solution
This may be my shortest tutorial yet, so here we go! This would fit perfectly into my How To Fix Divi series, but this issue is much rarer than the others. If you face this issue, you are probably one of only a few, but someone asked this in my Divi Teach Facebook group and I promised I would make a tutorial. This tutorial will show you how to fix the stylesheet is missing issue when trying to install the Divi Theme.
Join subscribers on our YouTube channel and enjoy other Divi video tutorials!
Divi Stylesheet Is Missing Issue
The screenshot below shows the error information on the page located at Appearance>Themes. Below the grid of installed Themes will be this message: "Broken Themes – the following themes are installed but incomplete." Below that it will list the Divi theme with the description "stylesheet is missing."
This certainly is a confusing message to see!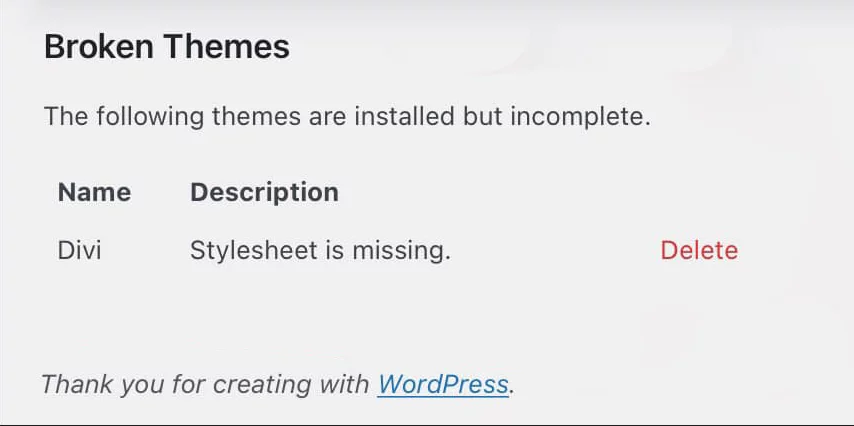 Divi Stylesheet Is Missing Solution
The solution may surprise you, but it truly is the solution needed – reinstall the Divi Theme. In my experience and from what I could find from others, this issue is always resolved by downloading a fresh copy of Divi from your Elegant Themes members area, saving it to your computer, and then uploading it again. The process is very simple and familiar, just like installing a theme for the first time:
Got to Appearance>Themes
Click on Add New
Click Upload
Browse and select the Divi theme .zip file
Click Upload
To learn more about how easy it is to replace the Divi Theme by installing a new file, check our recently tutorial about How To Manually Replace A WordPress Theme Or Plugin File. Don't worry, replacing the theme file is the same technical process as updating to a new version. It will not change any settings or have any negative impact.