Fixed Divi Theme Builder Header
Make The Entire Divi Header Fixed
We have a huge list of tutorials in our Divi header series, but there is always room for more! You may remember that we already have a tutorial and video for How To Make A Fixed Divi Header, but we wanted to address another specific issue that some users asked about. The question is this: "How do you make a fixed header using two sections?" The answer is easier than you think, but we can't use the default Divi settings. To make a header fixed in Divi with more than one section, we need to make the entire Theme Builder header fixed with CSS. I'll show you how in this video and in the rest of this post down below.
#1. Create Your Header In The Divi Theme Builder
Start off by creating your Divi Theme Builder header. If you already have done this, great, just skip ahead.
From your WordPress Dashboard, go to Divi>Theme Builder. Create a new template, and assign it wherevery you want to dispaly it on your site. In our example, we chose to assign the menu to a specific page where we are show you the demo in action.
Click on "Add Custom Header" and in the popup choose "Build Custom Header."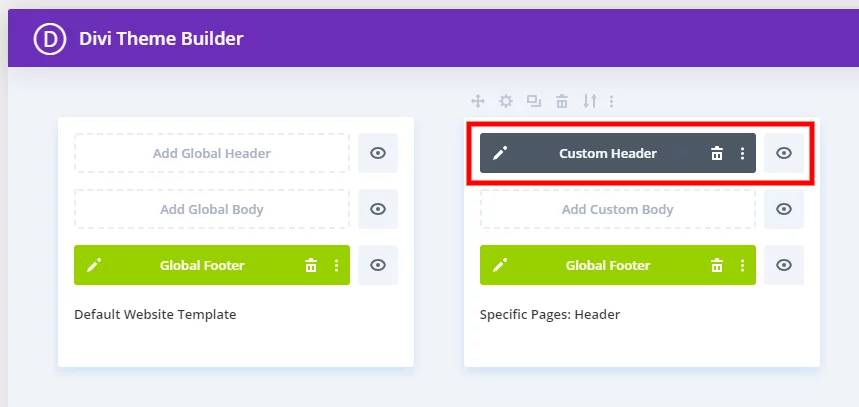 In the Divi Theme Builder template, go ahead and create your design, and of coursse, feel free to use more than one section.
In our example, we made the first section with a socil media icons and a secondary menu, then the second section with the main site logo and menu.
#2. Set The Entire Divi Header To Fixed With CSS
Normally, with only one section in your Theme Builder header template, you would go to the Section settings to the Position toggle in the Advaced tab. But because we have two sections, setting them both to fixed would just cause them to overlap.
Instead of setting individual sections to fixed, we are going to set the entire Divi Theme Builder header template to fixed with a little bit of CSS. All you have to do is copy and paste this into your Divi>Theme Options>Custom CSS area.
/*make entire Divi Theme Builer header template fixed*/
header.et-l.et-l--header {
	position: fixed;
	width: 100%;
	z-index: 9999;
}