Swap The Divi Theme Builder Logo
Another Header Tutorial To Compliment Previous ones
At this point in our Divi header series we have covered quite a lot! We have so many tutorials and videos on this that I keep thinking there can't be any more to make, but here are! This one will show you how to change/swap/replace the logo in a fixed Divi Theme Builder header.
One of the requested tutorials which will go along with some of our previous ones is to change the logo image in the Divi Theme Builder header menu you scroll. This would be for fixed headers.
This one is going to go along perfectly with some of our previous tutorials:

How To Change The Color Of A Fixed Divi Header Menu When Scrolling

How To Shrink The Divi Header Menu When Scrolling
NOTE: The written part of this tutorial has been updated after the Divi Sticky settings feature released. Previously we included jQuery code to make the header fixed/sticky, but now you can just use the built-in Divi sticky settings plus our CSS.
#1. Add Custom CSS Class to The Divi Theme Builder Header
From your WordPress Dashboard, go to Divi>Theme Builder. Create a new template, and assign where needed. In our example, we chose to assign the menu to a specific page.
Click on "Add Custom Header" and in the popup choose "Build Custom Header."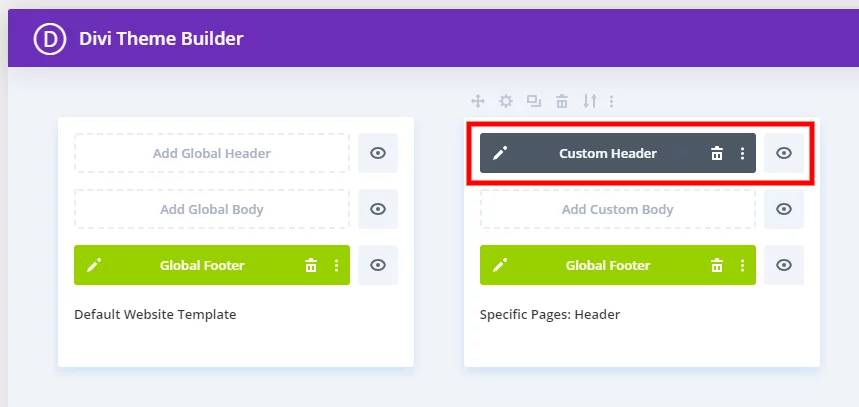 In the Divi Theme Builder template, create a section and add a row with any layout you want. In our example, we used a logo, menu, and button.
The most important part here is adding the CSS class to the section. Go to the section settings to the Advanced tab and add the class "pa-header" as shown in the image below.
#2. Set header Section To Sticky On Scroll
Divi now had built-in sticky position settings, so this is great. You can just go to the section settings to the Advanced tab and go down to the Scroll Effects toggle and set the Sticky Position setting to Stick to Top.
#3. Add The Custom CSS Code
Now that you have set the section to sticky, when you scroll down the site, the header stays fixed in place at the top. Maybe you are using one of our other tutorials linked at the top of this post to shrink the header or change the background color. In that case, you may want to replace the logo image.
/*replace the logo when scrolling*/

.pa-header.et_pb_sticky--top .et_pb_menu__logo img {
	content: url(INSERT NEW LOGO IMAGE URL);
}