Fix The Oopsie
Sometimes you update the Divi theme and realize there are issues with the new version. This could be due to accidentally turning on auto-updates, not using a staging site to test first, or just something you overlooked if you were in a hurry, or you simply didn't care enough. If you do have issues after an update, there are several troubleshooting steps to take to solve them, but the easiest and fastest way, although temporary, is to undo the update. In this tutorial I will show you how to roll back to a previous version of the Divi theme before the last update.
Join subscribers on our YouTube channel and enjoy other Divi video tutorials!
Things To Check And Consider Before Rolling Back
Rolling back the Divi theme to the previous version may seem like a good idea. After all, the previous version was working great, so why not keep that? But going backwards is not a good trend. Updates happen for a reason, and finding out why there are issues is better than avoiding them. A rollback is not  permanent solution, but it can certainly be useful and helpful at times. Below are three considerations to make when deciding if you should roll back or not.
What Troubleshooting Steps Did You Take?
I recommend doing some basic troubleshooting for a few minutes before clicking the roll back button. You don't have to be an expert developer to solve problems, you just have to follow a few steps. I highly recommend checking and bookmarking one of our most popular and helpful posts, How To Fix Divi – this is a complete guide on how to solve issues and problems with Divi. I can almost guarantee something there will solve any issue.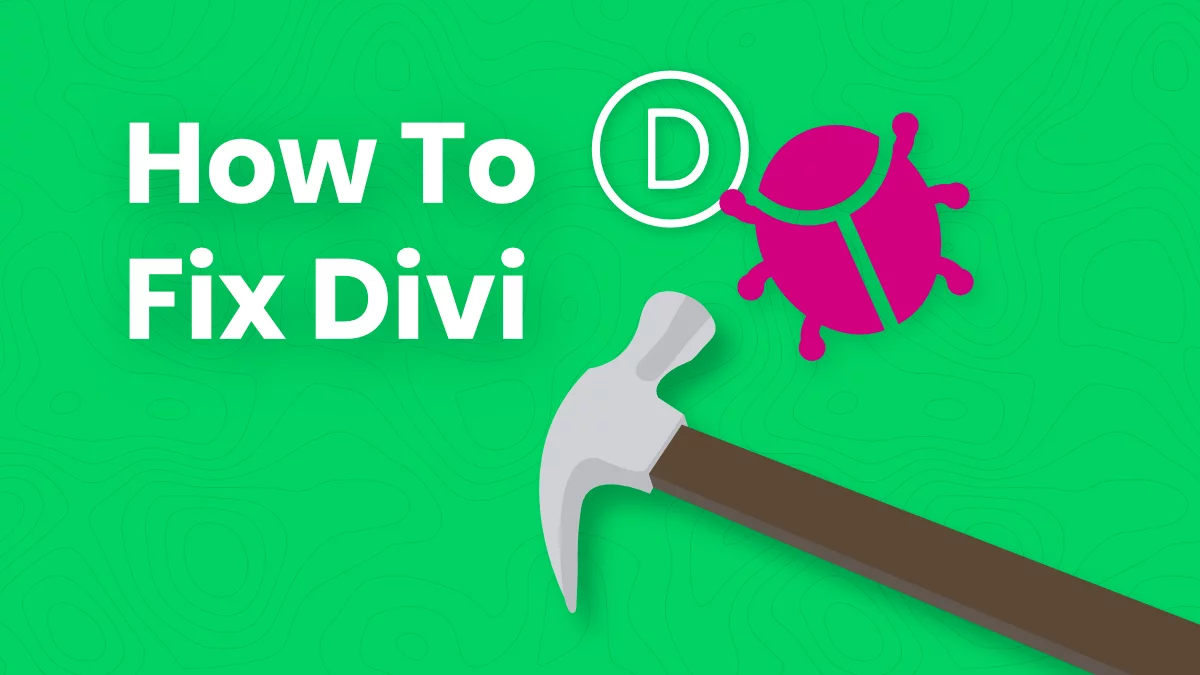 How Bad Is The Issue?
The key is to decide how urgent and critical the issue is that you are facing. If you update Divi and notice some horrible changes (unlikely) then it may be a serious enough issue to warrant a rollback. If there are only a few issues or less damaging ones, then I suggest quickly going through the list of steps from the How To Fix Divi guide.
How Long Will It Take?
It is important not to let the site in a poor condition for very long. If you make some quick checks and still face the issue, then it may be wise to roll back, then test and troubleshoot the issues on a staging site first. The main issue with waiting is having a live site with potential issues that the visitors will see. Nobody wants that, so that's why sometimes a simple rollback is the most feasible solution at the time.
How To Undo A Divi Update And Roll Back The Previous Version
After deciding that a rollback is necessary, go ahead and go to your Divi Theme Options area. Click on the Updates tab, and here you will see a setting called "Version Rollback" with a gray button that says "Rollback To The Previous Version."
Fun Fact: "Roll back" is the verb form. "Rollback" is a noun. Their setting label is correct, their button is wrong. 🙂 But how cares! haha
Incidentally, the same holds true for log in and login.
Read The Help Text
The help text in the right-hand side of the setting in Theme Options gives a pretty nice summary of this feature. I couldn't have said it better myself.
Click The Gray Rollback Button
After reading the message and understanding what you are doing, go ahead and click the gray rollback button. You will then get a popup message like this:
Here the popup message will say which version number it will go back to and which one you have currently. If you are curious about what changes were made in each version, check out our free simplified Divi changelog!
Rolling back will reinstall the previous version of Divi. You will be able to update to the latest version at any time, meaning if you roll back you can click update again.
Notice it says to make sure to have a full site backup before proceeding. Make sure you check our guide on Divi website backups.
Click The Blue Rollback Button
When you click the blue button, the website will install the previous version of Divi.
Update Again
If you roll back but then try to click the gray rollback button again, it will not let you. You can only roll back one version. The popup message will explain that you already rolled back, and encourages you to update.
Whenever you are ready to update again, after creating a backup and testing on a staging site, you can go ahead and update Divi to the latest version.
How To
Install Any Version Of The Divi Theme

 Using Divi Assistant

Here are the simple steps to install any version of the Divi theme using our popular Divi Assistant plugin:
Install and activate the Divi Assistant plugin
Click on the Maintenance Helper tab and the Change Divi Version subtab
Enable the setting
I hope that is easy enough for you! 😉