Our Best Freebie yet?
As you know, we create free tools and give away downloads related to Divi. We're back with a good one! One of the most common questions related to the Divi Blog module is how to show posts based on the taxonomy of a selected custom post type. This question arose when Elegant Themes added support for custom post types, which you can learn about here: How To Display Custom Post Types In The Divi Blog Module. In this tutorial I will give you the free download which you can install as a regular plugin on your website and show you how to use it to show posts based on taxonomies of custom post types in a custom Blog module.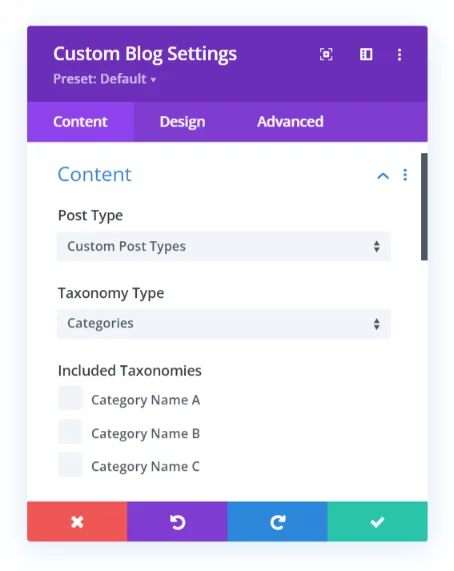 Join subscribers on our YouTube channel and enjoy other Divi video tutorials!
Subscription Information
We spend a lot of time developing these FREE Divi resources. Quite frankly, all we ask in return is that you subscribe to our email newsletter. You won't get spammed. Each month we send out a roundup email newsletter with the latest tutorials, product updates, helpful resources, and any other industry or personal news. Occasionally we send an extra separate email here and there if we just can't wait, but honestly not very often! So that's what you will get if you subscribe, and you can always unsubscribe at any time if you just can't take it anymore 🙂
If you are not subscribed, you will need to enter your name and email in the form below. Our system will send an opt-in confirmation email. Once you click confirm on that, then a second email will arrive in your inbox with the download link.
If you already subscribed,  just enter your info and the email will arrive in your inbox with the download link.
Subscribe To Download The Custom Divi Blog Module
How To Use The Free Divi Custom Blog Module
#1. Download And Save The Plugin File
The first step is to download the file to your computer. Save it somewhere you will remember for the next step.
#2. Install The Plugin Into WordPress
Go to your WordPress Dashboard and navigate to Plugins>Add New. Choose Upload Plugin and select the file. Once uploaded, activate the plugin.
Obviously, you would need to have an existing custom post type and taxonomies to benefit from this. If you do not, go ahead and check out our free generator tool!
#3. Add The Module To Your Layout
Now it's time to add the module to your Divi layout. Open the Divi Visual Builder and click the gray plus (+) icon. Search for "custom" or "blog" and you will see the module called "Custom Blog". Select it to add it to your layout.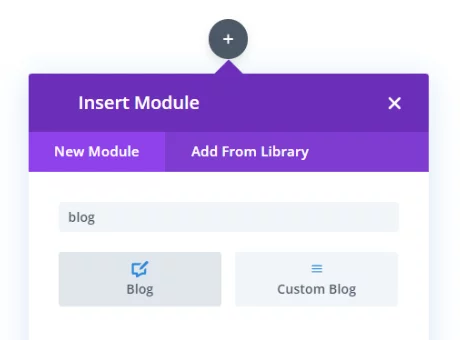 #4. Select Custom Post Type And Taxonomies
Now the part you have been waiting for! Simply select your custom post type from the Post Type dropdown and any taxonomies that you have created will appear. You will need to select the Taxonomy Type, the name of the Taxonomy. Any terms that you have created for that Taxonomy will appear as checkmarks for you to filter which posts show in the feed. Enjoy!