Now Included With Divi!
Once in a while, a little gem comes along in the Divi Changelog that you know is exciting simply because the alternative method is a long code snippet of PHP. So when I see something like this, I feel I need to make the public service announcement and also throw in some extras. So in this tutorial I will show you how to enable and style the shopping cart quantity count in the Divi Menu module beside the cart icon.
Join subscribers on our YouTube channel and enjoy other Divi video tutorials!
Enable The new Cart Quantity Setting
I'm doing this more for the information than for any step-by-step guide, because quite frankly, it is only one step! Go to the Menu module settings to the Elements toggle and enable the Show Shopping Cart Icon. Once this setting is enabled, a new setting appears called Show Cart Quantity. When this is enabled, it will display a number and text to the right of the shopping cart icon.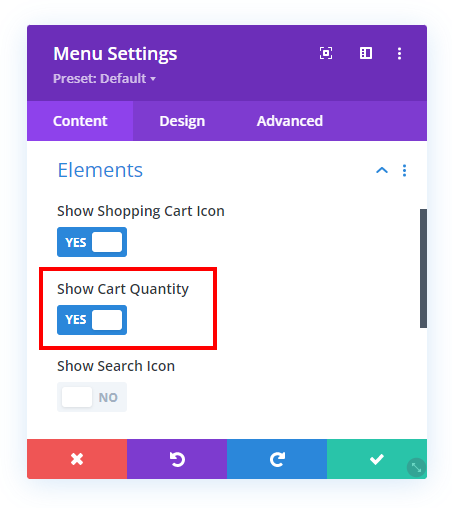 Let's take a look at how this looks by default!

You can style the text with new design settings. Just open the Design tab and open the new Cart Quantity Text Toggle. There you will find all the stand font and text design settings.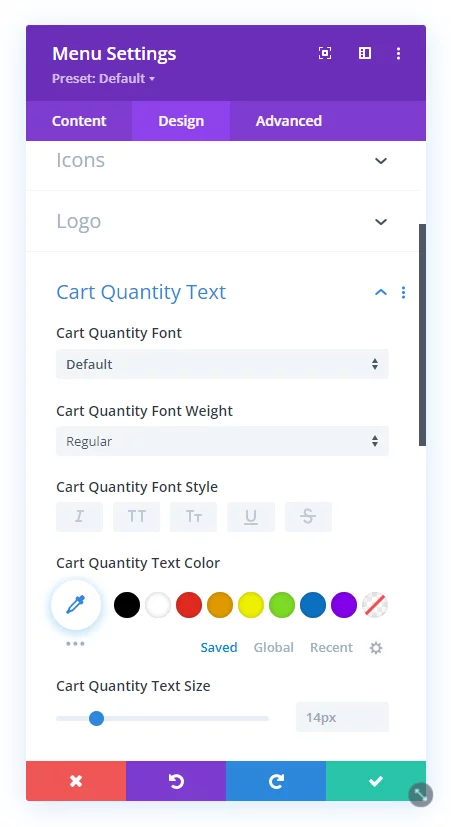 It looks pretty good, and I am happy that this new feature was added! In the next section, I'll give you some bonus styling to make it look even better!
BONUS: Styling The Cart Quantity
Since this is a short post about a brand-new Divi feature, I thought I would give you some bonus styling snippets to get you started.
NOTE: Watch the video to see these in action!
As with any CSS, these are meant to customized however you want, so take these as the selectors and example styling and customize them. The first example styles just the text background area, and the second example styles the entire cart icon and text. The last snippet can be used to style just the cart icon.
Cart Quantity Text
/*menu cart number of items*/
.et_pb_menu__cart-count {
  background: #000000;
  padding: 4px 8px;
  border-radius: 50px;
}

Entire Icon + Text
/*overall menu cart button with icon and count*/
a.et_pb_menu__cart-button {
  background: #000000;
  padding: 8px 14px;
  border-radius: 50px;
}

Cart Icon
a.et_pb_menu__icon__with_count:after {
YOUR CSS HERE
}