Solving A User Experience Issue
Have you ever noticed horizontal scrollbars appear on your site, especially on mobile? When scroll on your phone, does the screen move back and forth sideways? This is not good for user experience! This issue can make the website look very unprofessional, and it is also confusing. Many Divi websites have this problem and it often goes unnoticed.
This issue is very common no matter what theme you use, so it's not Divi's fault! Usually it is user error, although not always. Thankfully there are several solutions.
Join subscribers on our YouTube channel and enjoy other Divi video tutorials!
What Is The Horizontal Scroll Issue In Divi?
The issue we are referring to can appear in couple different ways. Sometimes users see a horizontal scrollbar appear at the bottom. This is added by the browser because some content is too wide for the screen. Others do not see any scrollbar, but notice the site moves sideways when scrolling. This is especially common on mobile devices when scrolling with your finger and you are able to move the content left and right on the screen.
This issue is occurring because something is making the page container larger than the browser window. It is usually caused by an element being wider than its container so it hangs off the edge of the page. There is a possibility that the content of your website may cut off or be hidden.
Whichever type of issue you face, it simply should not be happening! It does not look good. It can confuse users and makes the site feel broken and unprofessional.
What Is Causing The Horizontal Scroll Issue In Divi?
Now that you have a description of the issue, let's consider some possible causes for why this is happening. Unfortunately it not always one specific common reason, but rather several possible scenarios which have been know to cause it.
Common Causes
Often this is caused by margin, padding, and sizing that has not been properly optimized for Tablet and Phone devices sizes. Due to these settings, the elements may be overflowing the browser viewport.
The menu dropdown submenus are another thing to check. These can sometimes be off the side of the screen.
The navigation menu could be too wide for the page.
I've even heard of a logo being too wide and there wasn't enough space for it.
There could be some width or min-width issue in the Sizing settings in a module, row, or section.
I've read of cases where an animation was causing it, due to the movement beyond the container.
If you are adding advanced custom styling to Divi in general. Sometimes you want to achieve a specific effect but overlook this issue.
Let me know what I missed and I will update the list!
Solutions To The Horizontal Scroll Issue In Divi
Find The Cause
There are some quick solutions, but it would be wise to at least try to identify what is causing the issue first. The key here is that something is causing the problem. The ideal solution will always be to find the element or code or setting and undo the cause. Easier said than done!
Solutions
There are several solutions, but it all depends on the cause. Without knowing the cause it's pretty hard to give a specific solution. So the next steps are to review the common causes and then take some action on those.
A great place to start is to simply load on your phone, and also on desktop. Use the responsive tools in your browser to check for anything obvious. 
When you are inside the Visual Builder, change the responsive views back and forth between Desktop, Tablet, and Phone. Notice anything odd? If you do, open some of the sections, rows, and modules and check the sizing, width, padding, and margin settings. To make it easy, you can use the filters and choose Responsive Styles/Content to see only the settings that have been modified on Tablet and Phone. You can also choose to filter by Modified Styles in general, as the issue may not be specific to the responsive settings..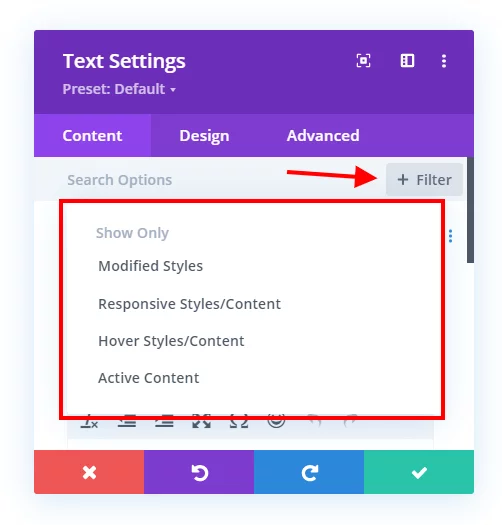 If you narrow it down to some row, column, etc. but do not have any settings wrong, you can solve this by opening the element and going to the Advanced tab to the Visibility toggle and setting the Horizontal Overflow to Hidden.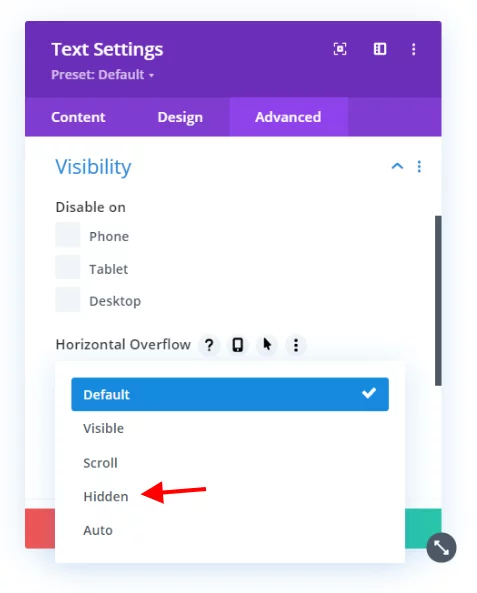 The alternative to the Divi setting is to add "overflow: hidden;" in the Main Element of the section, row, column, or module that is the culprit.
Solve It With A CSS Snippet
If the above methods fail, you can always use CSS. This snippet targets the body element and sets the horizontal overflow to hidden and the position to relative. It should work in most cases. I can't guaruntee it will every time, but it is the best way I know of to handle this.
If you are using our free Divi child theme, place this snippet into the style.css file. Otherwise, place this in your Divi>Theme Options>Custom CSS code box. If you need help, check out our complete guide on Where To Add Custom Code In Divi.
/*prevent horizontal scroll on mobile*/

@media all and (max-width: 980px) {
	html,
	body {
		overflow-x: hidden;
	}
	body {
		position: relative
	}
}
How To
Disable Horizontal Scroll Movement

 Using Divi Assistant

Here are the simple steps to disable horizontal scroll movement using our popular Divi Assistant plugin:
Install and activate the Divi Assistant plugin
Click on the Frontend Helper tab and the Miscellaneous subtab
Enable the setting
I hope that is easy enough for you! 😉