Make A Carousel With
Any Divi Module!
No need to keep buying custom 3rd party carousel modules for every single use case! Just make a carousel of modules directly in the Divi Builder! One size fits all!
Over 120 Carousel Settings And Counting!!!
113 Free Carousel Layouts!
We are excited to announce that the demos for the Divi Carousel Maker plugin are now available as free layouts for you to download and import into your own site. These layouts are already created on our carousel demo website using the settings and features in the plugin. We spent a lot of time making these, and hope that you enjoy them! Hopefully these layouts will allow you to save time while also giving you a chance to explore how each section was created and which settings are used in the carousel and modules.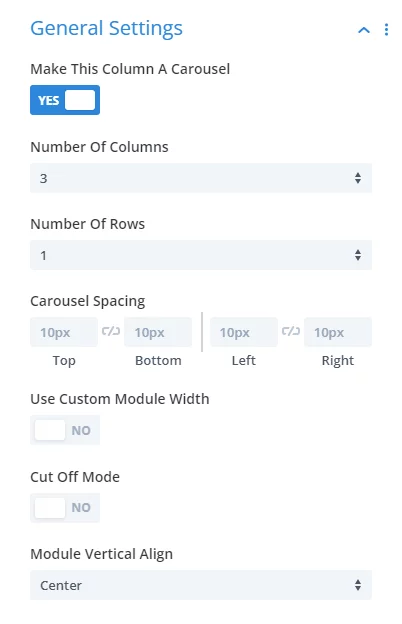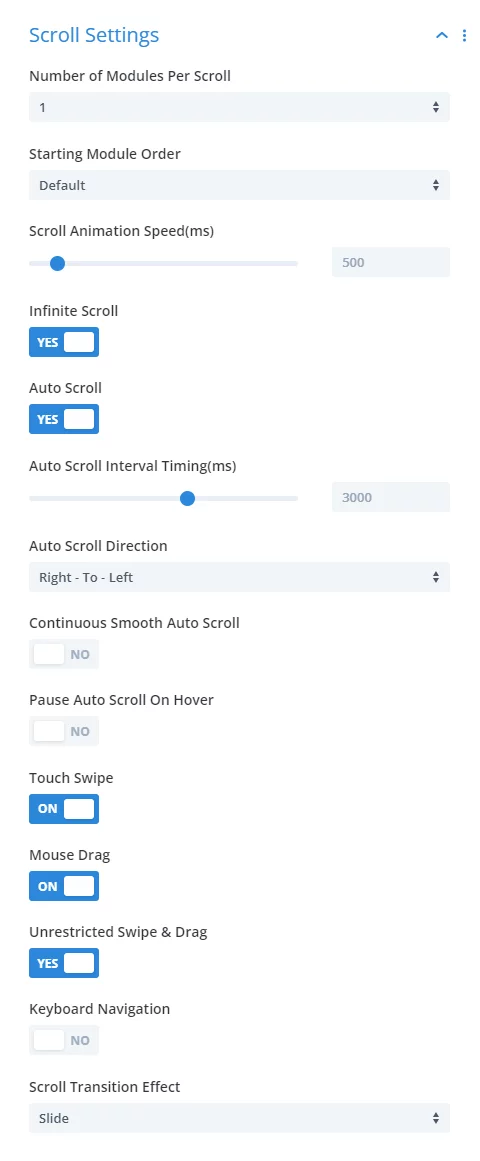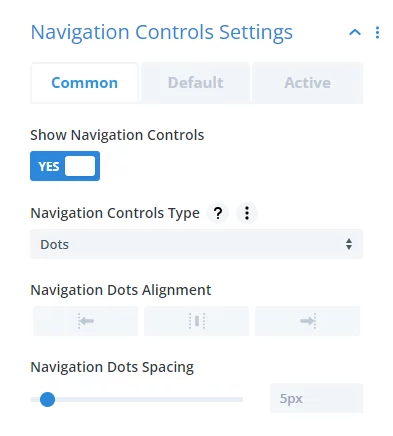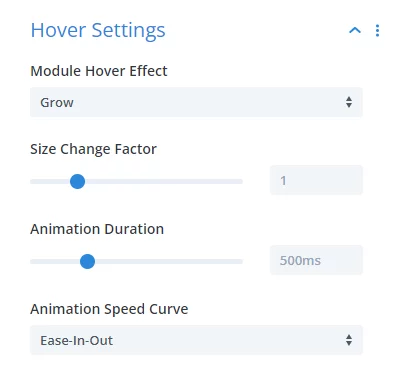 Includes Settings For
Everything!
We have tried to include all the settings and features we could think of for making a carousel, and this is only version 2.0!
Clever Integration Directly In Builder
No more buying custom modules for every kind of carousel! In fact, our plugin actually does not include any modules! Instead, we cleverly inject additional settings to create and design a carousel directly in the Divi Builder! So just add anything you want, including standard ad 3rd party modules.
Design Your Style
The carousel is very functional, but also includes all of the design settings you need. This allows you to adjust things like the navigation arrows and dots, hover effects, spacing, and more. But of course, keep in mind that most of the design of your carousel comes from the modules themselves.
Everything Is Responsive
We have made sure that all of the settings include responsive options, allowing you to change almost everything per device on Desktop, Tablet, and Phone. These thoughtful and helpful settings truly set our plugin apart even more, providing exactly what customers and visitors need!
Incredible Functionality
We tried to think of every setting needed for a carousel, and then some! We truly do have settings to adjust every part of the carousel, making it easy for users and providing a good user experience for websites visitors. We are committed to adding even more features, so let us know your ideas!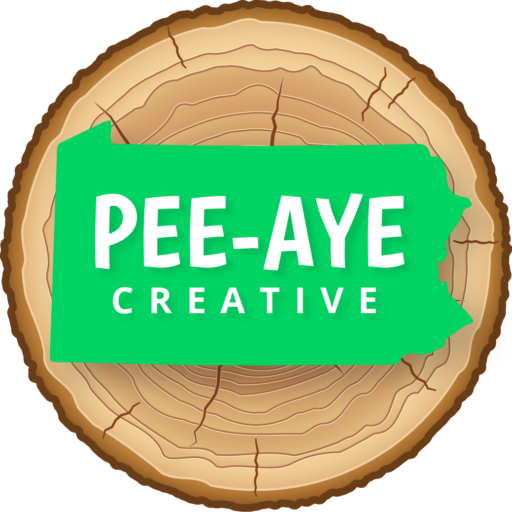 Why Choose This Product?
Integrates existing Divi modules into the carousel – works with any Divi or 3rd party modules
The last carousel you will ever need to buy – no need for different carousel modules for every situation
We are a top-rated Divi product creator and community leader
Our proven track record of continuous feature updates and improvements
We are known for fast, friendly, and personal support
Our products come with thorough and helpful documentation
Thousands of happy customers love and trust our products

Gain access to our private Facebook group called The Divi Teacher.
(an invitation will be sent after you purchase this product)

Hello, I'm Nelson Miller, the owner of this company. I created the Divi Carousel Maker plugin so you can make a carousel directly on the page with any Divi module! I hope you enjoy this game-changing plugin!
Is this a carousel module?
Nope! This is not another new module, but rather a toggle within the existing Divi builder in the Divi columns to make any other regular modules into a carousel! That's the cool part! It's a carousel maker, not a module!
Which modules can be added to the carousel?
You can technically add any Divi modules to the carousel, even 3rd party ones! Keep in mind that some modules would obviously make more sense in a carousel than others, such as:
Blurb
Image
Call-To-Action
Testimonial
Person
Blog
Portfolio
Woo Products
Videos
Text
But the great part is that since this is not a carousel module, any module you choose can be added.
How does this plugin work?
The plugin adds new carousel settings directly in the existing Divi Builder! You can add any modules to a column in your layout and then turn on a switch to make them into a carousel. Then you can adjust the carousel and design settings to your own preferences. Please check out our documentation page for more info on all the features.
Does JavaScript load on all pages?
Our plugin is fully optimized for performance using the same methods of dynamic asset loading like Divi itself, so no, the JavaScript used for the carousel is only loaded on the page if the carousel is enabled on that page. In our testing, performance was not affected by our plugin, and this is a high standard we set for all our plugins.
Why is there no visual preview?
When you enable a carousel in a column, you will see the message below:
Due to the unique nature of this plugin and the limited ability to customize the core Divi Builder, it is not possible to provide a preview of the carousel in the Visual Builder. The settings below will take effect when you exit the Visual Builder.
So you may be asking, why is this? Great question!
Obviously our Divi Carousel Maker plugin is unique! In fact, you could call it trailblazing. Because of this, we are actually getting ahead of the curve and ahead of any available documentation from Elegant Themes. This means that no one else has done this, which naturally means no one has instructions available.
As soon as any solution becomes available within Divi to create a visual preview, trust me, we will add it! We are excited for this plugin and wanted to release it in "beta" as it is until that future time comes when we can make a visual preview.
Recommendations
Until then, we can share a few recommendations.
1. Try keeping two tabs open at the same time, one in the builder and the other out of the builder. Whenever you save chagnes in the one, you can immediate refresh the other tab to see the changes take affect.
2. Use our free premade carousel layouts. This is great because you can already see a demo of how they look. As soon as you import the premade layout you can make a few changes to colors or other settings easily without the preview. Since most of the settings are already adjusted in the layouts, this means you are basically finished as soon as you import them.