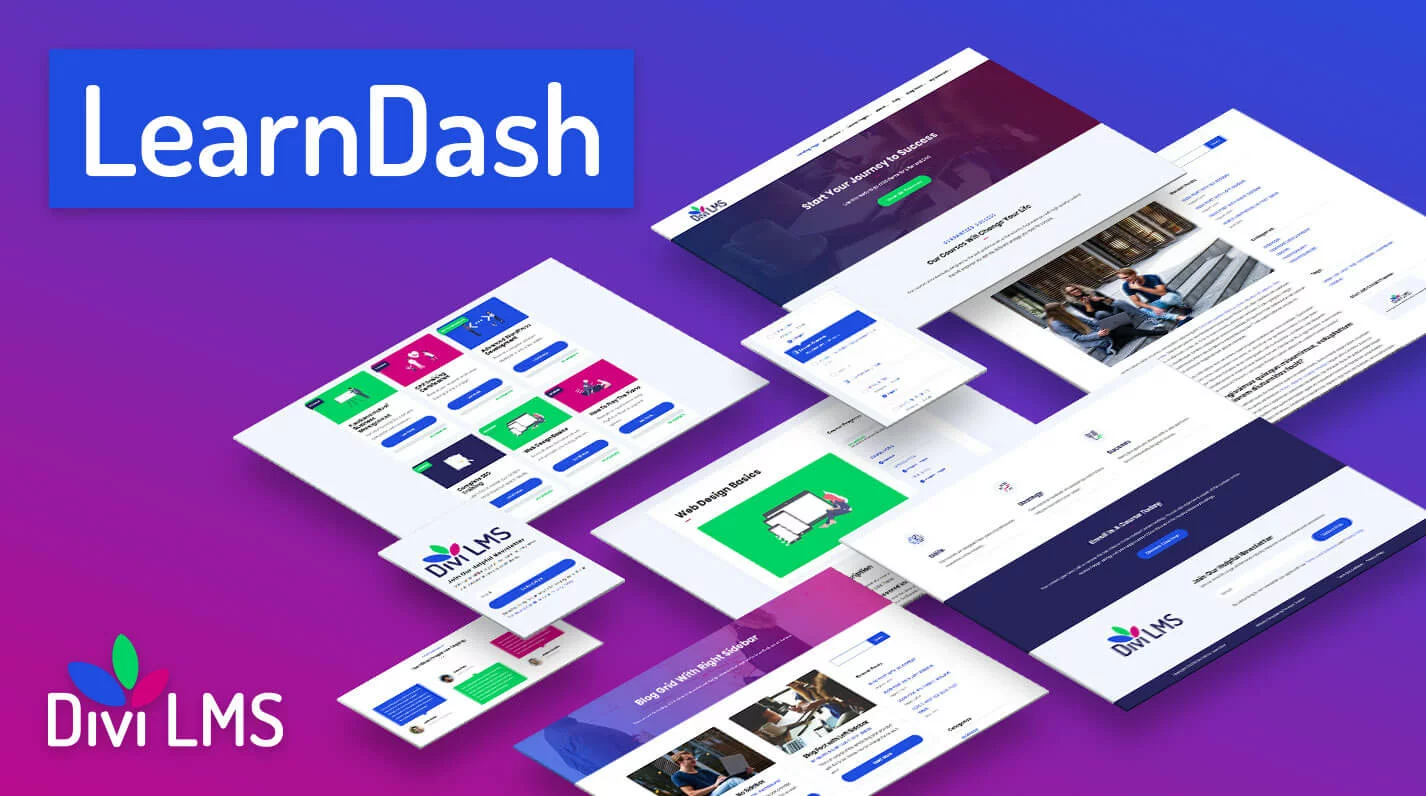 Divi LMS Child Theme for LearnDash
Save tons of time and effort building an e-learning and courses website with this custom template created specifically with styling and layouts for using Divi and LearnDash LMS together.
Single Child Theme vs.
Unlimited Everything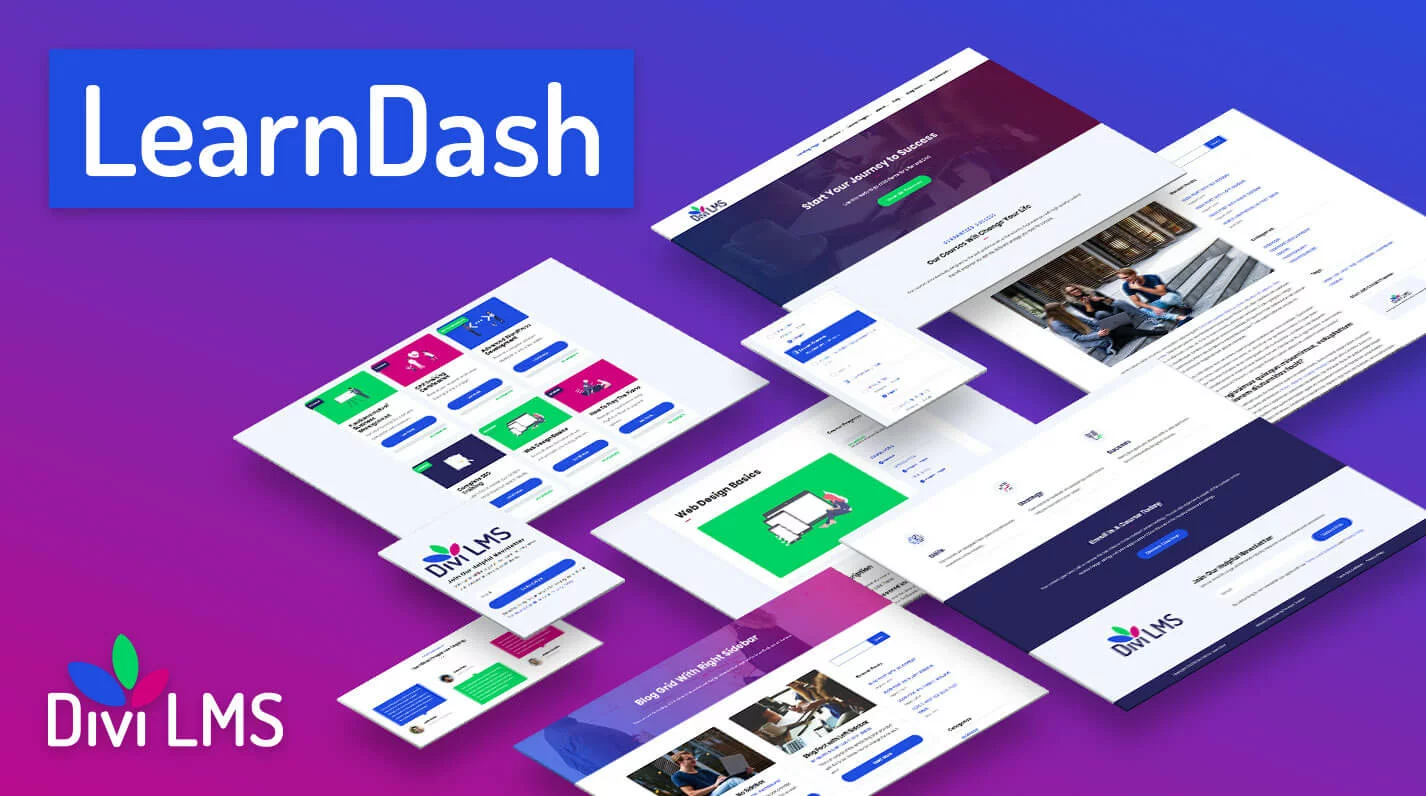 Divi LMS Child Theme for LearnDash
Annual Or Lifetime Options
The Divi Adventure club
All Divi Plugins (13) Includes Divi Assistant!
All The Divi Teacher Courses (4)
All Divi Child Themes (12)
Access To All Product Releases
Exclusive Divi Resources
Use Any Product On Unlimited Sites
Show Support For Our Weekly Tutorials
Help Us Build More Community Freebies
The
Smart Way

To Build A LearnDash LMS Website
Complete Website Solution
The Divi LMS Child Theme for LearnDash is everything you need to start an e-learning or courses website in Divi! With premium features and a modern look, this template is an affordable and complete website solution for anyone who loves Divi and needs a boost in motivation to get started making money selling courses.
Built Intentionally
The child theme comes with custom styling and layouts created specifically for using Divi and LearnDash LMS The pages and content included are very intentional based on experience. We've spent tons of hours getting this ready for you, and we are excited to offer it to you for such an affordable price. 
Save Time and Money
Are you wanting to start an online course website, but hate the thought of 40+ hours just setting up the site? This unique and professionally made website template is an indescribable time saver for small businesses and designers working with clients. This child theme includes tons of premium features that go far beyond the standard Divi theme and LMS plugin design and functionality.
One-Click Demo Import
This child theme is super easy to install! Our template comes with an easy to use demo import feature, which allows you to make your website look like our demo in just one click. You can use the Divi Builder to edit anything, or use our preconfigured styles and layouts to get you started on your way to a successful LMS website!
Start Earning Money
The online learning industry is exploding, and you can take advantage of it! Start creating courses to share your experience and knowledge in exchange for recurring revenue. We are proud that our ready-to-go child theme for LearnDash LMS and Divi is helping so many people get started on their path to success!
Enjoy These
Incredible Features!
This child theme has everything you need to start an e-learning and courses website website in Divi!
Content Layouts
Landing Page/Home Page
5 Course Grid Pages Based on Course Category
6 Course Pages (Built With Divi and Gutenberg)
Lesson Pages (Built With Divi and Gutenberg)
Topic Pages (Built With Divi and Gutenberg)
Quiz Pages (Built With Divi and Gutenberg)
Profile Page
About Page
Instructors Page
FAQ Page
5 Blog Pages With Various Grids, Fullwidth, and Sidebar Layouts
3 Blog Posts With Various Grids, Fullwidth, and Sidebar Layouts
Login/Register Page
Consistent Design
One Standard Font
Cohesive Font Sizes
Consistent Spacing Throughout
Divi Theme Builder
This child theme is fully integrated with the incredible Divi Theme Builder. This includes templates for the header, courses, topics, blog posts, blog categories, blog tags, and the footer.
Custom Divi Header Menu
A fully custom Divi header using the Divi Theme Builder and CSS.
Designed for Mobile
Responsive Text Sizes
Responsive Spacing
Responsive Image/Icon Sizes
Quickly Adjust Global Styles
Unique Styling
Course Grid
Testimonials 
Blog Feed
Pagination styling
Email Optin

Courses

Course Progress

Course Navigation

Profile Page

And much more!
Fully Commented Code
All CSS code included is easy to understand and reference with comments on every single line!
Animations
Attractive Hover Styles
Subtle Loading Animations
Micro Interactions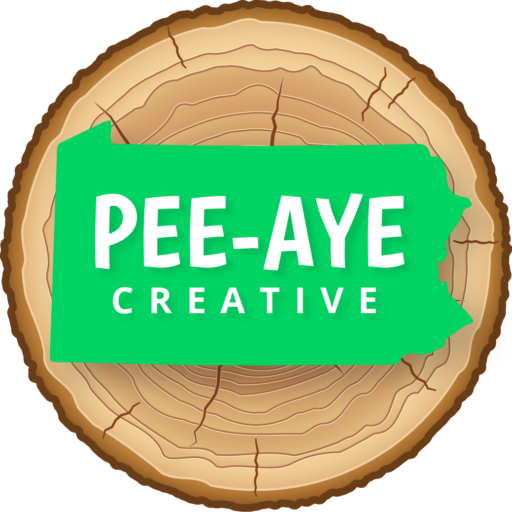 Why Choose This Product?
Save time and money by starting with a template
Includes custom CSS styling, Divi layouts, and theme builder templates
We are a top-rated Divi product creator and community leader
We are known for fast, friendly, and personal support
Our products come with thorough and helpful documentation
Thousands of happy customers who love and trust our products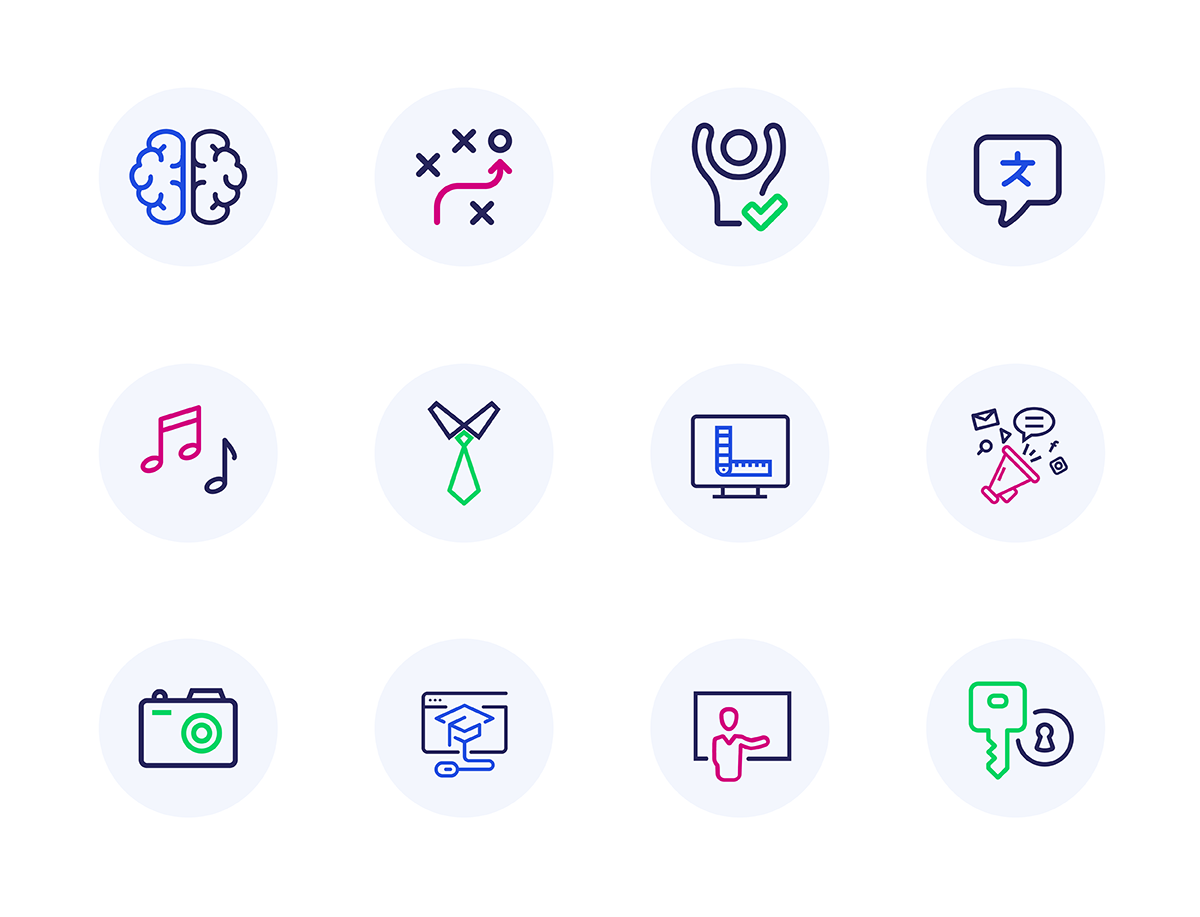 Custom Icons
The purchase of the Divi LMS Child Theme for LearnDash includes 16 professionally designed custom icons which you can use on your site and includes vector files to customize to your brand colors.
Handy Style Guide
The purchase of the Divi LMS Child Theme for LearnDash includes a downloadable PDF style guide which shows the logo, colors, buttons, and typography of this child theme which can be used as a  reference as you design your site.


Hello, I'm Nelson Miller, the owner of this company. I created the Divi LMS Child Theme for LearnDash so you can quickly set up a complete website at a crazy low price! I truly hope you enjoy this product!
How does this child theme work?
The child theme is a complete website template that is added on to the Divi Theme. You will be able to install the demo content with one click using our innovative system. Since this is just a structure and style extension of Divi, the layouts are part of Divi. We have a video and documentation on how to install and use this child theme, so be sure to check that out after you make the purchase.
I already have a child theme, now what?
Our child theme needs to be installed for the demo import process to work. So if you already have a basic child theme installed, will need to save a copy of the code and then merge it into this one. 
I don't want a child theme, just the layouts. Is that possible?
If you do not want to use the child theme for some reason, you could install the child theme on a temporary dev server and import the child theme. Then you could export any layouts or code you want to another live site.
Will there be future updates?
That depends, due to the nature of child themes, it is not advisable to receive updates automatically because any customization that you would make the code would be erased.. Sometimes we do make periodic improvements, but those are usually minor. We always just recommend that you download the latest file any time you install the child theme on a new site.
Do you offer product support?
Absolutely, we are always happy to help you with anything related to our products. If you have any question or encounter some issue, please visit our Docs & Support area. You should find everything you need there, but if you still need help you can use the contact support form at the bottom of any of our documentation pages.
If you want to learn how our product support works and what is included, please visit our Product Support Policy for more information.
Do you offer refunds?
Our products come with a 30 day money back guarantee. This guarantee and policy is based on some standard and fair criteria which is all clearly detailed in our Product Refund Policy. We encourage you to review the document and reach out to us if you have any doubts about your purchase. We are down-to-earch folks who will treat you with integrity, so feel free to start a friendly conversation with us at any time.
Customization Disclaimer
This product is a template for the Divi Theme, meaning it is based entirely upon Divi and WordPress. To effectively use this product, you should be at least somewhat familiar with WordPress and Divi. Templates like this are meant to be personalized to some extent, and most of the customization to the Divi layouts would take place directly within the Divi Builder as expected. However, there are some custom design elements of our product which are selling points beyond what is possible in Divi alone, and these make this product special and unique. If you want to customize any of these items, you can edit the CSS or jQuery code in the child theme files. We love making it as easy as possible for you, so we have clearly labeled each line of code with explainer comments for your convenience. We also have essential guides in our documentation area. If you need further assistance customizing the template, you may hire a designer/developer or contact us for our current customization rates.