The Amazing
Divi Social Sharing Module!
Check out all of the incredible features!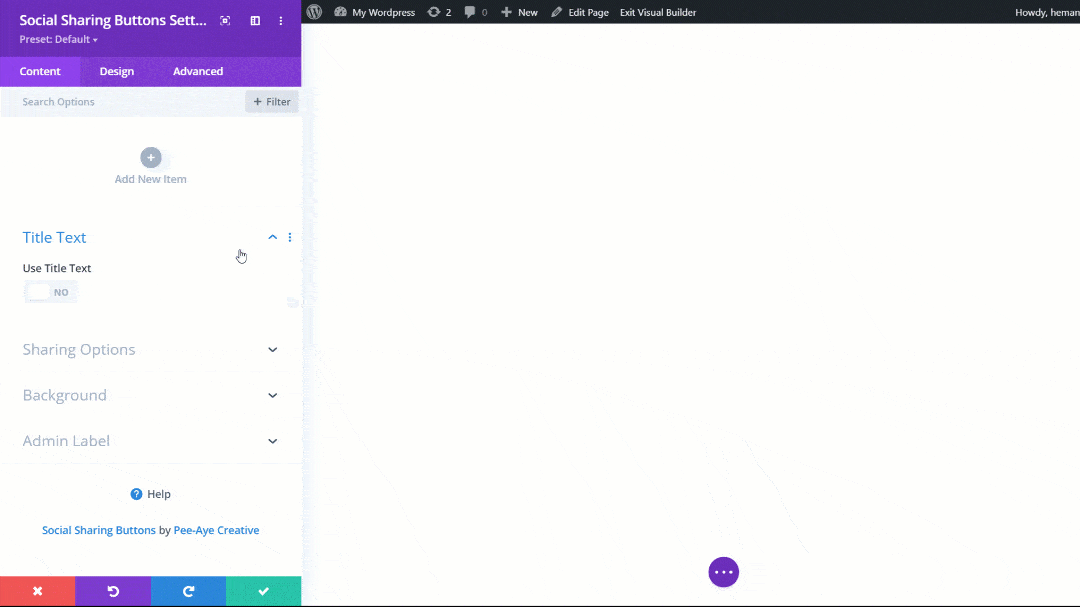 Add The Social Networks
Start by adding the social networks of your choice! So far we have added the following networks:
Facebook
Messenger (Facebook)
Twitter
Pinterest
LinkedIn
WhatsApp
Tumbr
Reddit
Telegram
Gab
MeWe
Email
Copy URL
Set Your Preferred Layout
Choose from one of our man layout options, then customize the icon, text, buttons, etc. The module includes the following main layout choices:
Icon Left, Text Right
Icon Right, Text Left
Icon Top, Text Bottom
Icon Only, No Text
Text Only, No Icon
P.S. You can even choose a different layout for Desktop, Tablet, and Phone!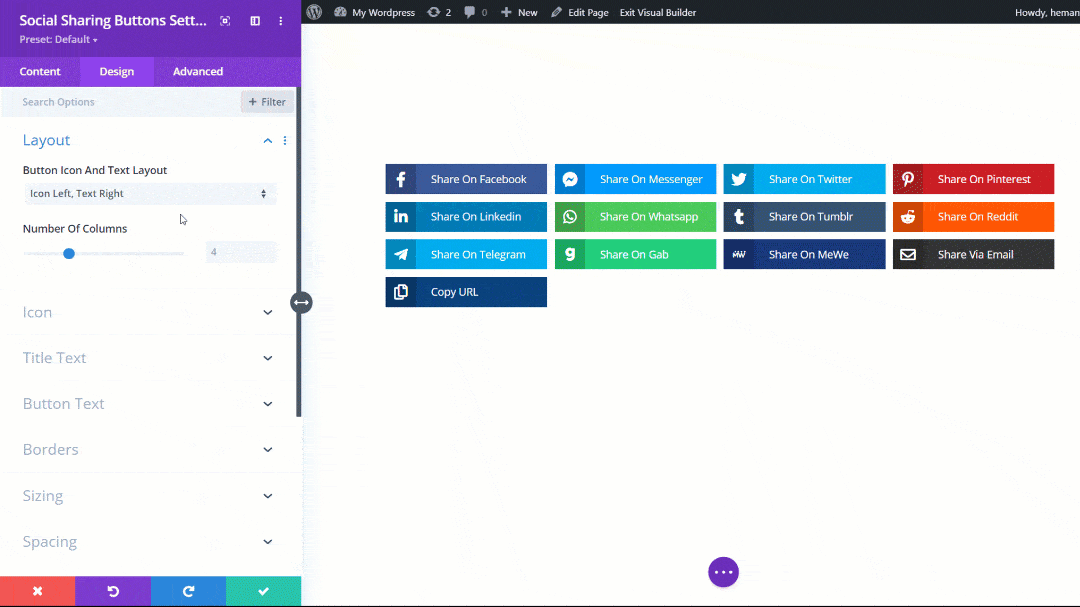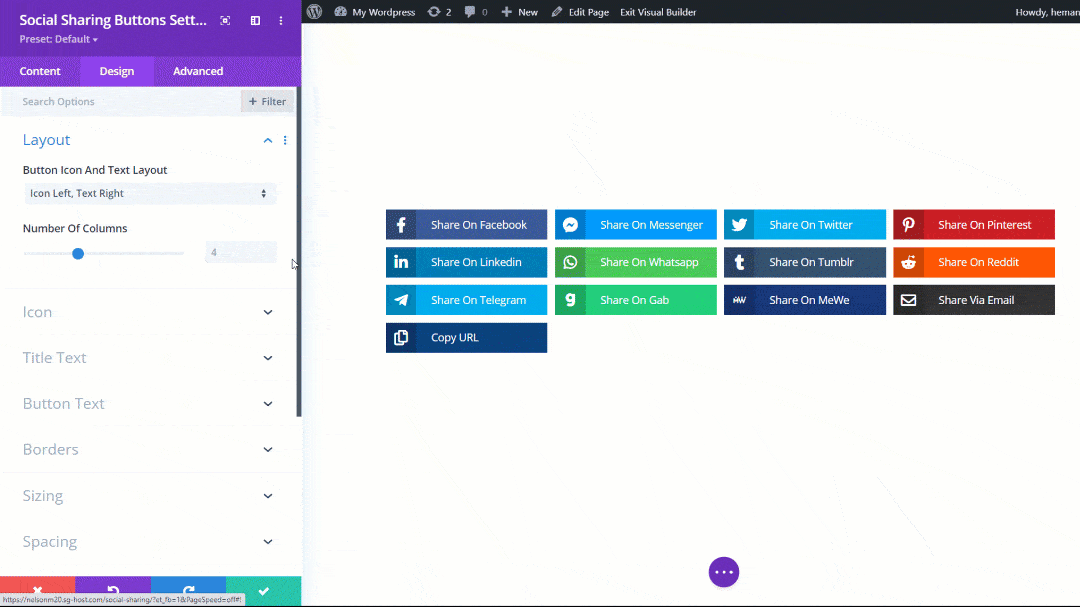 Choose The Number Of Columns
All of the layout options include the ability to set the number of columns. This is also responsive, meaning you can change the column count per device for Desktop, Tablet, and Phone!
Design Everything Your Way
We made it a goal to provide every design setting we could think of for you to easily customize and style the social sharing buttons. These settings include things like writing your own custom text, changing the icon and button size, colors, spacing, borders, box shadows, layout, columns, alignment, and so much more.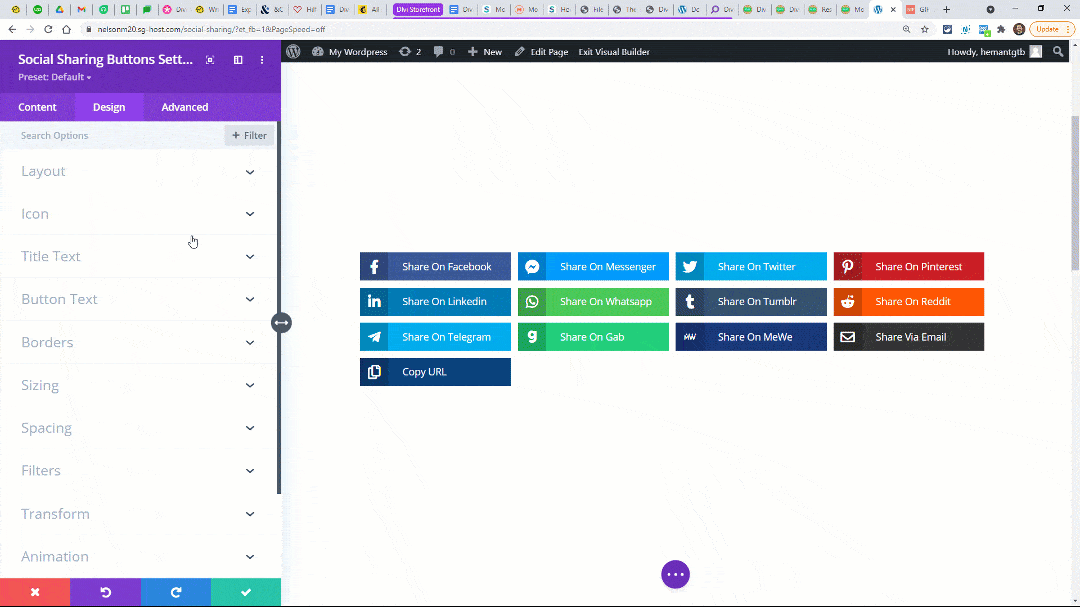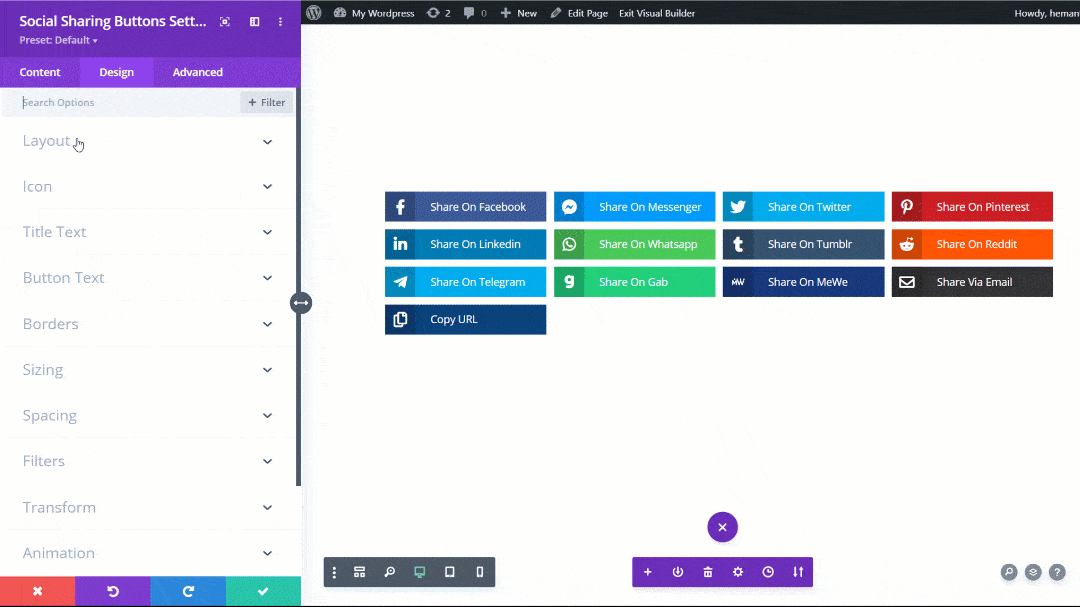 Make Everything Responsive
Our goal is to make it easy for you to control all of the settings on Desktop, Tablet, and Phone. These responsive settings can be found on all the settings throughout the module. Some are standard responsive options like you would expect and can find in default Divi modules, but some go beyond that like the ability to change the layout per device! All of these options make it easy for the web designer to design and the website visitor to use the site and share the amazing content.
Choose Custom Sharing Options
These features allow you to control what information and content is shared when someone clicks on the sharing buttons. You can customize the URL link, image, title text, and message text that gets shared! You can choose to set global sharing options for all networks, or customize each feature within each individual social network. There is nothing out there like this feature, it is truly unique and awesome!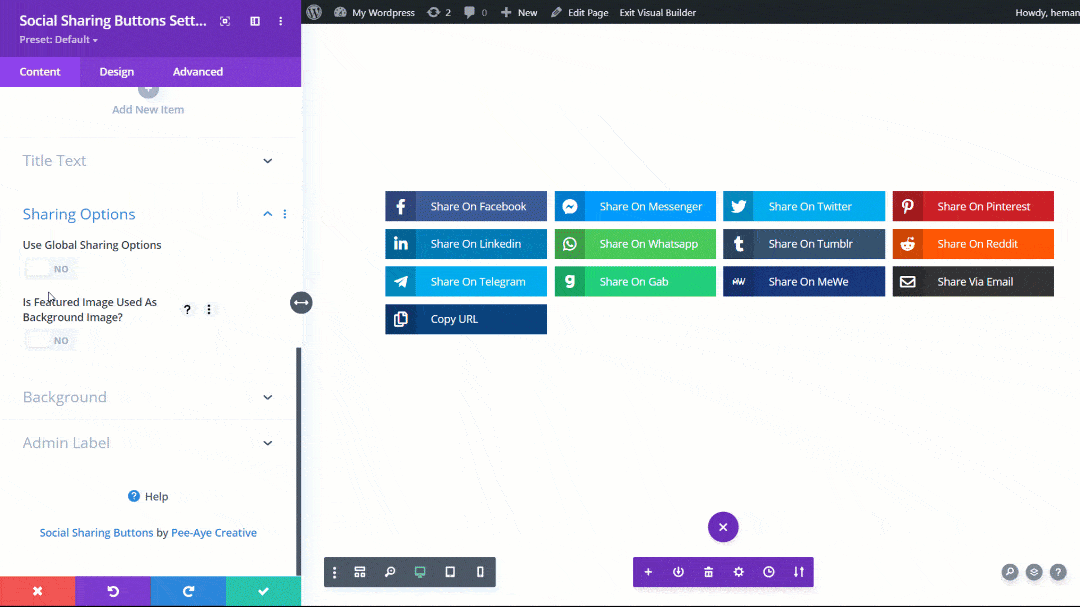 The
Smart Way

To Add Social Sharing On Your Divi Website
Only Divi Social Sharing Module
Did you realize that Divi does not have any social sharing module? Every website needs this important social feature, and we are happy to provide the first ever module for adding social sharing buttons in Divi!
Tons Of Design Options
We added every design setting we could think of in this module! We want you to be able to change the layout and design and adjust every setting right there in the module settings! Just look at all the design options!
Add To Any Page Or Post Type
You can add our module to any page, post, or post type! Allow users to share your pages or posts on social media!  Great for blog posts, WooCommerce products, portfolio projects, custom post types, and pages.
Perfect For The Theme Builder
The Divi Social Sharing Buttons module is perfect for Divi Theme Builder templates. Add this to your blog post template, a WooCommerce product page template, or to any other custom post type template!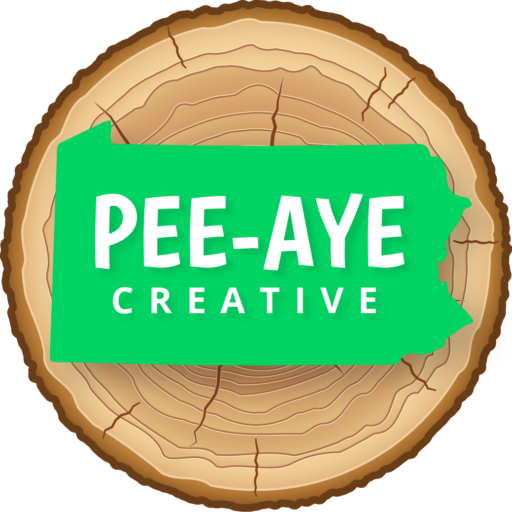 Why Choose This Product?
Integrates perfectly with the Divi Theme Builder templates
Totally custom sharing options for title, link, image, and excerpt
We are a top-rated Divi product creator and community leader
Our proven track record of continuous feature updates and improvements
We are known for fast, friendly, and personal support
Our products come with thorough and helpful documentation
Thousands of happy customers who love and trust our products

Gain access to our private Facebook group called The Divi Teacher. (an invitation will be sent after you purchase this product)

Hello, I'm Nelson Miller, the owner of this company. I created the Divi Social Sharing Buttons module so you can easily encourage users to share your awesome content online! I truly hope you enjoy this plugin!
How do I use this module?
We have a full video and written documentation about how to use this module. You can reference it here: How To Use The Social Sharing Module.
As you set up and use the module, I highly recommend you also reference our document which lists all the settings and features included in this module. You should also check out the demos to get some inspiration on the different layouts and styling options!
Why isn't Instagram included?
Instagram does not support any kind of social sharing. It is not like other social networks. It's simply not possible, so that is why there is no feature for Instagram in our plugin.
What about Monarch?
Well, what about it? There's no comparison! Check the comparison chart! Yes, Elegant Themes does have a separate social sharing plugin called Monarch that is available with your Divi license, but to be honest, it's not very useful for Divi users.
There is no Divi module
You are very limited in where you can add the icons
There are no customization options
The plugin is basically forgotten
It is complicated to use
There is no integration with Divi
There are not even any shortcodes
Our social sharing module has everything Monarch is missing, and it works beautifully with Divi! Admittedly we don't have as many social networks yet, but adding more networks means more API connections and a little more strain on the server, so we are adding new networks wisely. We also do not have live share counts, on purpose! Those are nasty for page performance, and are not necessary in our opinion.
Can I suggest new social networks to add?
Absolutely, we are definitely looking forward to adding more social networks in the future. It does take a great deal of work connecting with the different APIs from the various platforms, so we want to hear from you in order to put our time and effort into the best ones. Please contact us to let us know which social networks you would like to see added in future updates!
Will it work with the Divi Builder plugin (not theme)?
Our plugin will work fine if you are only using the Divi Builder plugin with another theme, but it is not optimal because some of our settings are located in the Divi Theme Options, which the plugin does not have.
Will there be future updates & new features?
Yes, we are always working on new featues ideas! Please refer to our product roadmap to learn more about what features and updates are being planned and developed!