Finally, A Solution To Disable Premade Layouts
The free Divi premade layouts offered by Elegant Themes can be nice to get started on a site or page, but they are not for everyone. You may even want to hide access to them from clients. But there is no way to disable them, not even in the role editor. We spent a lot of time working on this issue, and are pleased to finally have a solution! In this tutorial, I will show you how to easily disable the premade Divi layouts using the Divi Assistant plugin. 
Join subscribers on our YouTube channel and enjoy other Divi video tutorials!
The Divi Premade layouts feature appears when you click the plus (+) icon in the page settings of the Visual Builder.cloud m This feature is called "Load From Library" but it also includes the premade layouts.
This screen opens up as a large window with tabs at the top for Premade Layouts, Your Saved Layouts, and Your Existing Pages. 
Another place you can access the Premade Layouts is when you create a new page or post. It always pops up with these options: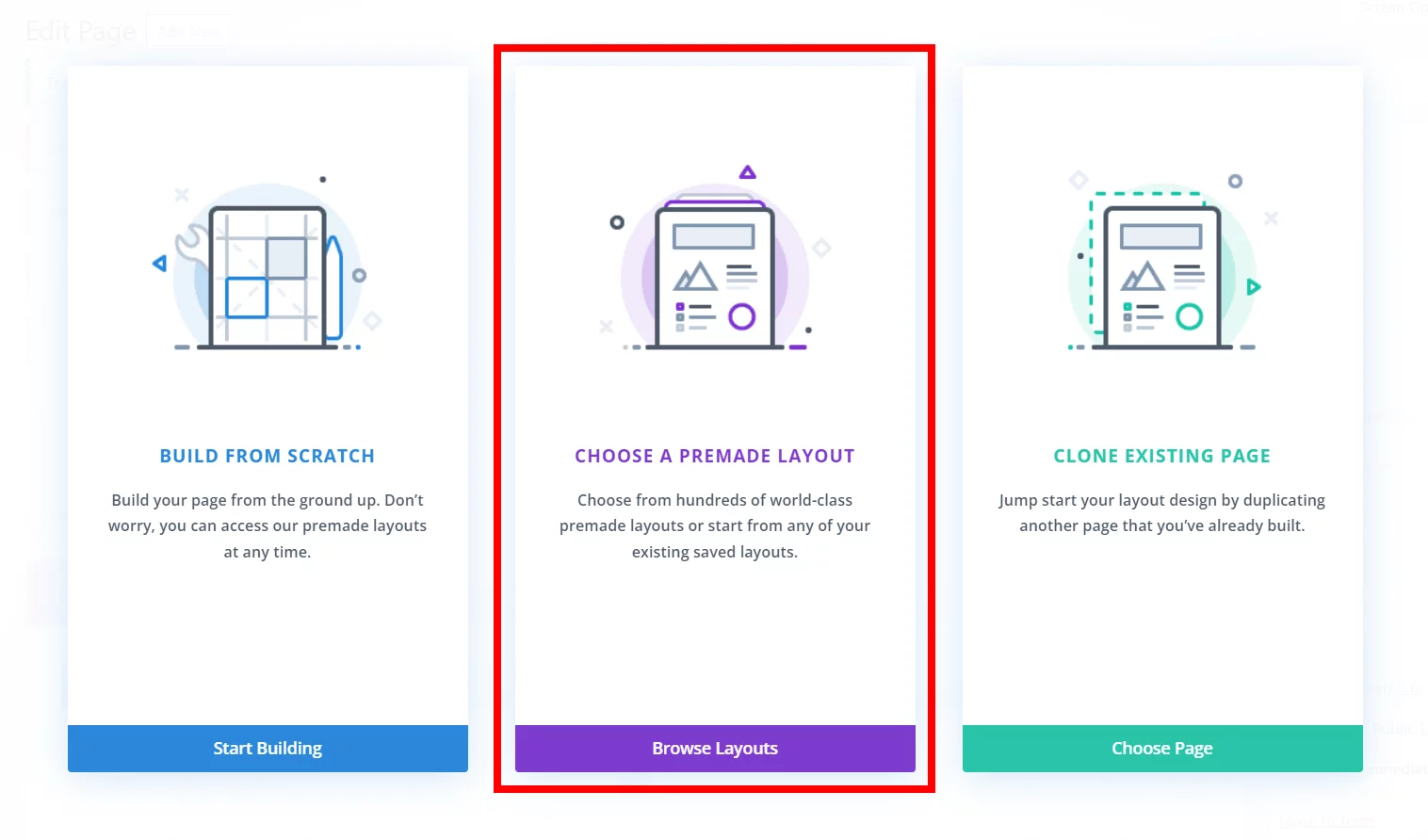 So the task is to remove the premade layouts from each of these places.
Why No Code Snippet?
Notice that the Premade Layouts in the first screenshot above are shown by default as the active tab. This is why it is not just as simple as hiding the tab with CSS, because the layouts are actually loaded. Our feature in Divi Assistant hides the tab AND prevents the layouts from loading – not an easy task!
I do like to provide code snippets for almost all of our tutorials, but there are some cases where it would just not be feasible. Even when we do tutorials about features in Divi Assistant or other plugins, we try to provide the code to give you the option of using code or a setting.  But this one is complicated, and is not something you can simply hide with CSS. It took a lot of work to figure out how to achieve it well, especially when reloading the Visual Builder. So for disabling the Divi Premade layouts, the only method available in the world is to use Divi Assistant.
How To Hide The Premade Divi Layouts Using Divi Assistant
Here are the simple steps to hide the premade Divi layouts using our popular Divi Assistant plugin:
Install and activate the Divi Assistant plugin
Click on the Utility Helper tab and the Visual Builder subtab
Enable the setting
I hope that is easy enough for you! 😉
After enabling the setting, the next time you click the Load From Library icon from within the builder, the tab and layouts will not be shown, and instead the Your Saved Layouts will be shown by default as the active tab.
Enabling this feature will also automatically hide the premade layout option when starting a new page or post: