What's New In Divi Events Calendar 1.4
Huge List of New Features
This update is our biggest yet, and includes at least 15 new features and a bunch of fixes! That's huge in our opinion! We have updated the changelog in our documentation area, but this post and video is the best place to see what's new in detail.
We Continue To Listen
Many of you already know that we have implemented your feature requests into our plugin. Thank you for those! We are still doing that, and often add your suggestions to our development checklist. You will notice that several of the new features were requested from users. We want to continue to make our plugins better and better, and together we are doing that, which is really exciting to have your patience and cooperation.
#1. New Features
New Settings In Our Calendar Module
In our last update, we introduced a brand new monthly calendar view module in our Divi Events Calendar. This module was essentially in beta, but is progressing well. We have added more design options to customize the calendar however you want it. Be sure to let us know if we are missing any important features!
Days of the Week Text Style
Month Text styles
NOTE: Version 2.0 will bring a lot more settings to the Calendar module!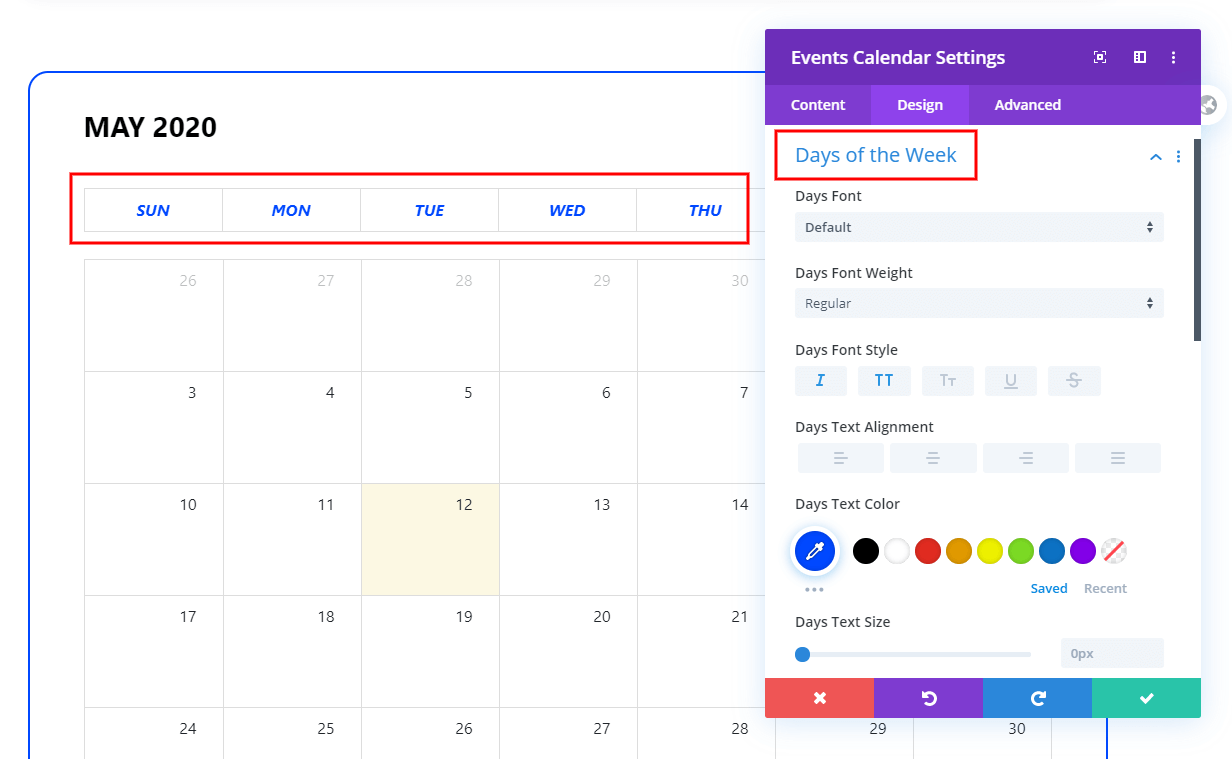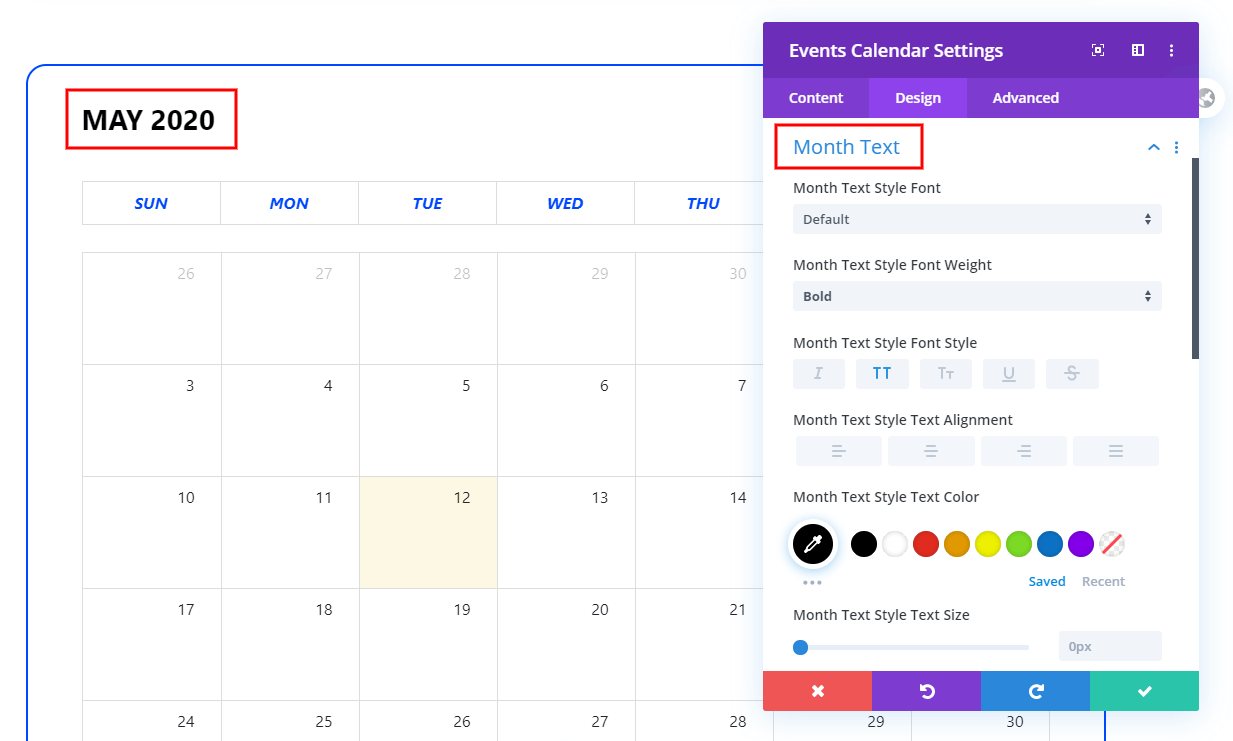 Translation Support
We added language translation support to both of our modules! This was a popular requested feature, and we were working hard on this for quite some time. We hope to hear feedback on this from users, so please email us if there are any issues.
Week Starts According To Language
Along with translation support, now the week starts  according to the users selected language. For example, if you are using French, the first day of the week would be Monday instead of Sunday.
Changed Event Category Selection To checkboxes
The original version of the Divi Events Calendar plugin required you to type in the name of the event category, or add multiple categories separated by a comma. Now we have updated the design and functionality of the categories to work just like the blog module. Any event categories that you have assigned will now dynamically show up in the module, and you can select the event categories with checkmarks!
Current Category For The Theme Builder
You can now create event category archive pages with the Divi Theme Builder! We added a new toggle in the feed module to "Events For Current Page" for dynamic categories. This is similar to how the blog module works for blog categories. You can now place the feed module in the Theme Builder template, enable this toggle, and assign the template to the event categories!
Increased The Featured Image thumbnail Size
Another new feature that is not really a setting but rather adds a feature to an existing setting. You may have noticed the image size slider, which allows you to set the exact size of your image. But we noticed the images would become blurry if you set the slider to it's highest setting. We are pleased to say it is now showing a bigger thumbnail by default, and will dynamically show the featured image without any blur of pixelation! (This is mostly only relevant with our 1 column or 2 column layouts with image on top/details on bottom.)
Featured Image Thumbnail Layout Alignment
We have added more layouts to the module:
1 Column – Image Right, Details Left
1 Column – Image Top Center, Details Bottom
2 Columns – Image Right, Details Left
2 Columns – Image Top Center, Details Bottom
You can now set the thumbnail to be aligned to the left, center, or right on 1 Column and 2 Column layouts. I think we now have every possible layout option! (Dont' you wish the Blog module had this?) 
Event Title Heading Selection (H1-H6)
Before this version, the event title was hard coded, but now you can choose whether you want this to be an H2, H3, etc! This again was a requested featured from a customer, so we are happy to continue listening.
Stack Event Details On Their Own Line
We have listened! We added a toggle that when enabled makes each event data item like Event Date, Event Time, Event Category, Event URL, etc. on their own line. This is something we wanted to do for a long time and are happy to include it now in version 1.4.
This goes along with the next new feature – remove dividers and prepositions.
Toggle To Show or Hide Dividers & Prepositions
A few people were asking how to remove words like "at" or "in" from the event details. We decided to make this a new feature, so we added a toggle to turn off the prepositions and dividers.
This goes along with the previous feature — make each event item on their own line.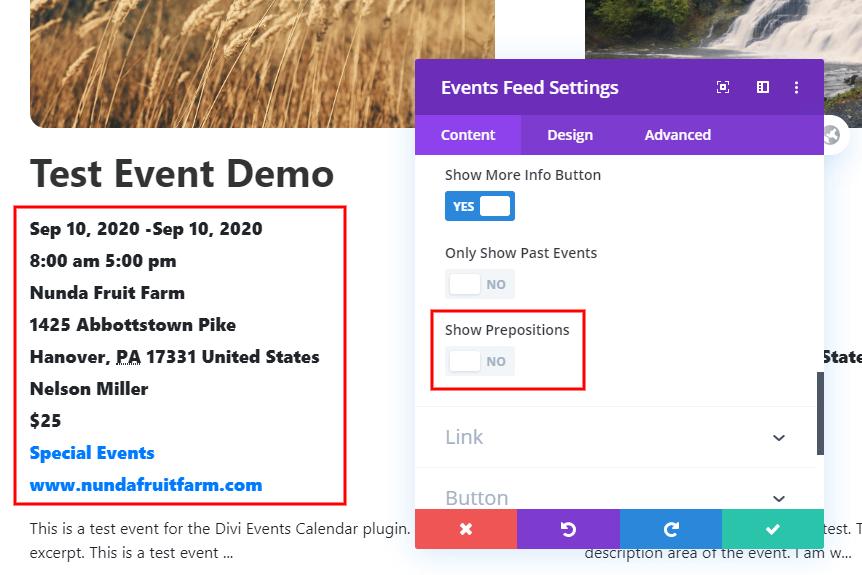 Button Icon Selection
Yay! You can now choose an icon to use with your view more button! Another feature that even the Blog module doesn't have! You can also choose the normal icon settings associated with buttons:
Show Button Icon
Choose Button Icon

Button Icon Color

Button Icon Placement Left or Right
Only Show Button Icon On Hover
Align Buttons To Bottom
Another requested feature from a customer was the ability to align all the buttons to the bottom. You can now enable a toggle to align all the buttons to the bottom. This creates a nice consistent look!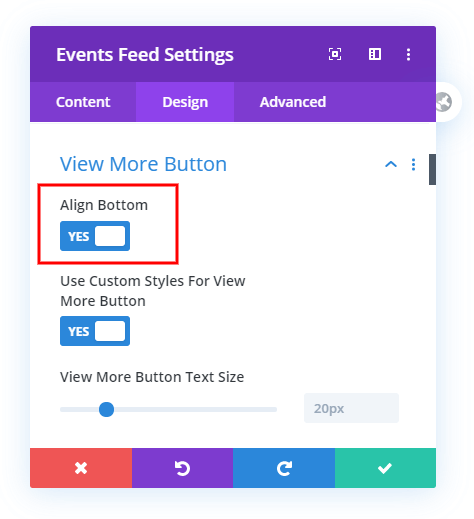 Button Margin & Padding
The button in our module is getting lots of attention, and now we have added spacing settings! You can now adjust the margin and padding of the View More button. We hope you like this!
#2. Notable Changes
Terminology
Now that we have two modules, we wanted to take a look at the names of our modules. These show up when you are adding the modules to the layout. It got pretty confusing with the new module, plus we wanted to make them shorter and more distinct. So here's the breakdown:
The orginal module with the grid layout is now called "Events Feed."
The new monthly calendar view is now called "Events Calendar."
Let us know if this makes sense to you!
Plugin Description
Now that we have two modules, we updated the plugin description to match that!
Documentation
You may have noticed we have been busy adding new documenation to our site for all our products. You can find those here: Divi Events Calendar Docs.
#3. Fixes
We always want to keep improving even the little things:
Fixed to the layout affecting users with the (annoying) Safari browser.
Fixed the button icon which was not showing on hover for some users.
Added some more space between the excerpt and the button
Fixed the "read more" button alignment issue affecting all of the Divi Event Calendar feed modules on the same page.
Fixed the column width issue for single event cards for some layouts that were being set to 66.66% instead of 100%
Fixed the Detail Text alignment which was not working
Fix the blank module Tooltip on hover over Divi settings bug
Removed Link toggle from the Content tab of the Events Module.
Removed Text toggle from the Design tab of the Events Calendar module.
Reversed the order of events when "Only Show Past Events" is used.
Don't Forget
Updated Demos
We updated our demo layouts and styling to fit the new branding and features, including the archive page layouts. Make sure you go check out those demos!
Featured On Elegant Themes Blog
Don't forget we were featured on Elegant Theme's blog. That's right, our Divi Events Calendar plugin was featured in a Divi Plugin Spotlight. Take a look!