Unlimited Website Usage
30 Day Money Back Guarantee
Lifetime Support & Updates
Does this sound like you?
You love the Divi builder!
It's fun to use, and you are getting good at it. Enough to be dangerous.
You want your website to look good on mobile.
Everyone is using phones and tablets these days. It's important, and search engines are going "mobile-first."
But, you're smart. And efficient.
Sure, you could mess around with browser inspect tools or open the responsive settings constantly, but you have better things to do.
So, you have questions, like…
Why doesn't someone solve this most-requested Divi problem? Is there a plugin with these features? How much time and money would I save?
We've Had Similar Thoughts
We also love making Divi products.
We solved it! The Divi Responsive Helper allows you to easily adjust device preview sizes, automatically fix widows, and add column stacking directly in the Divi Visual Builder!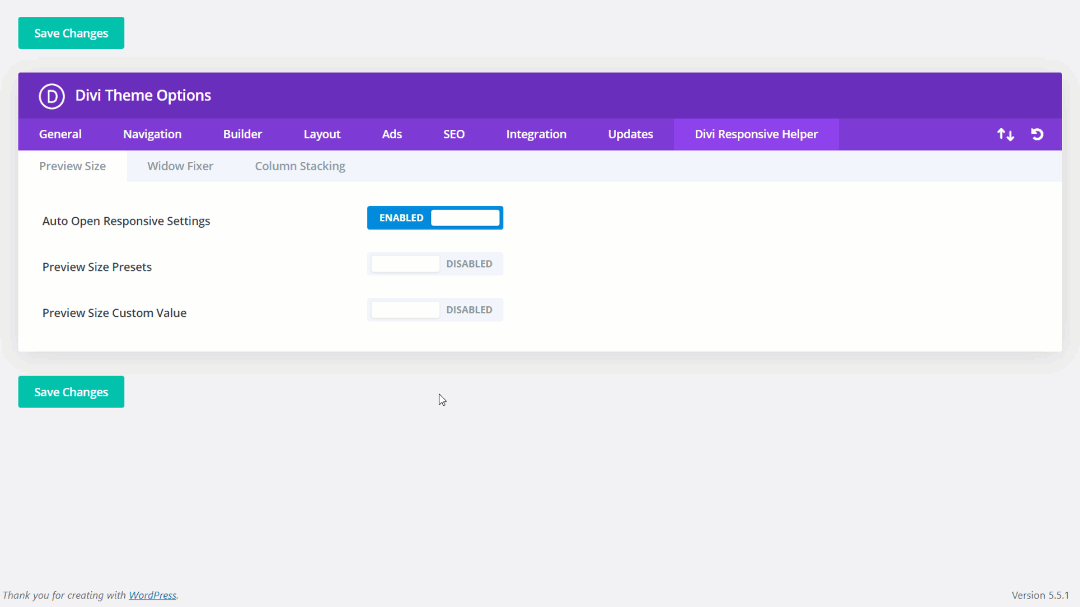 Feature #1
Set Custom
Preview Size

In The Builder

The Divi Responsive Helper plugin adds custom preview sizes directly in the Divi Visual Builder. The new set of options allows you to quickly choose one of the customizable presets, or enter custom value. Take advantage of the full power of the three default responsive breakpoints in Divi by using our instant, customizable preview size, enabling you to make your Divi website responsive down to the pixel!
Feature #2
Assign
Column Stacking

Order

You no longer have to add crazy code or pull your hair out trying to change the column stacking order. Simply use the Divi Responsive Helper custom column stacking settings in every Row and Column in the Divi Builder to change the order each column stacks on Tablet and Phone. 
Feature #3
Choose The 
Number of Columns
If you want to have two columns side-by-side on mobile…what do you do? You can't! But with the Divi Responsive Helper, you can! Our super helpful column number features allows you to select the number of columns you want to have side-by-side on Tablet and Phone.
Feature #4
Open 
Responsive Tabs

By Default

Use the Divi Responsive Helper to automatically toggle open the three responsive tabs for Desktop, Tablet, and Phone in the Divi Builder. This annoying task is made easy with a swtich of a toggle! Now when you are ready to make your site responsive you can adjust the Divi settings for each device without clicking to open the tabs for every setting!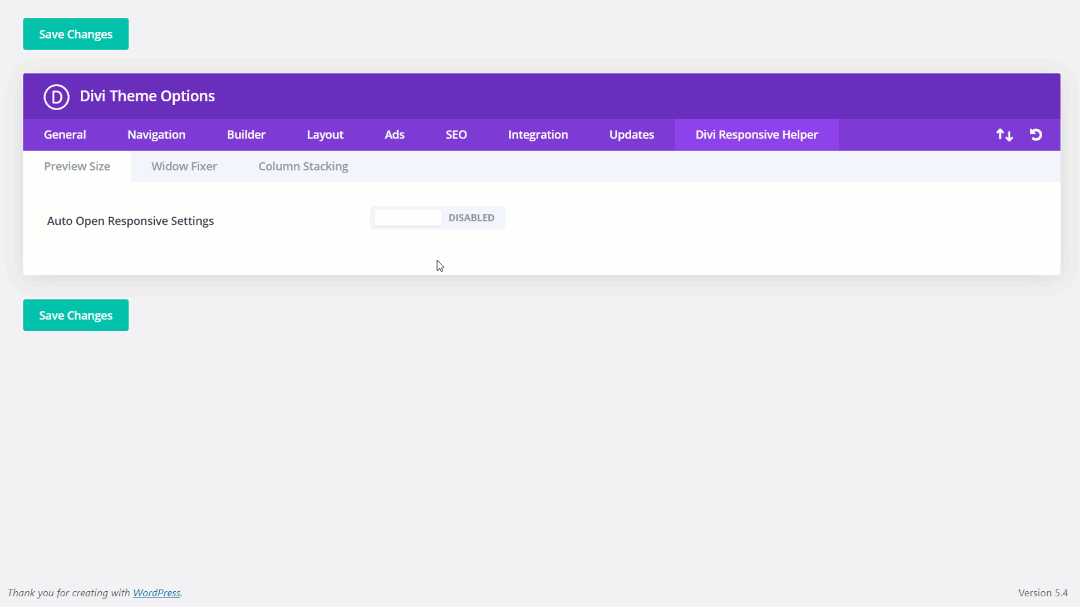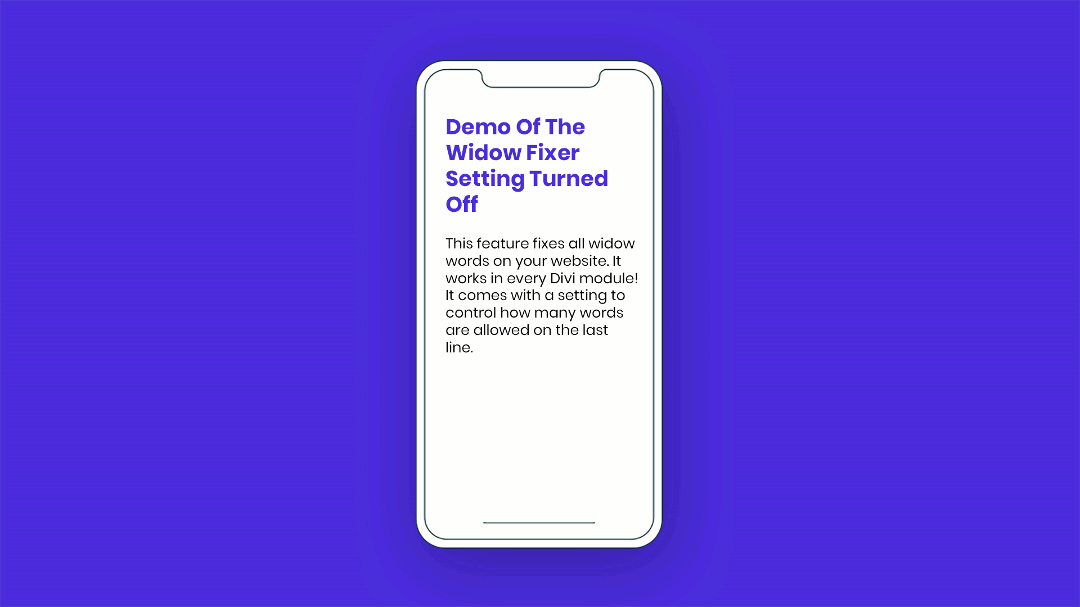 Feature #5
Enable The Automatic 
Widow Fixer
Ever get annoyed by those pesky single words at the end of a sentence or paragraph that sit on their own line? This happens a lot on Divi sites, especially on mobile, and many users don't even realize it.
Many Divi users find themselves trying all kinds of tricks to eliminate these widows, including soft-returns, resizing text, or CSS methods that simply don't work. The Divi Responsive Helper makes this easy with a real solution that prevents widows throughout your website.
Hey Nelson, just wanted to say that I love The Divi Responsive Helper plugin I just purchased. It has helped my workflow as well as saved me time. I can see how you came up with the name. Lol
You've put out some very helpful and informative videos on YouTube alongside your many resources and Blog Content. I just wanted to show my appreciation for your work and the things you do for the Divi Community. Keep it up, I look forward to the next awesome plugin from Pee-Aye Creative.
Hope all is well with you, your family and your business! 🙌
– Nick Morgan
What a fantastic plug-in, from the most SUPER-HELPFUL company – PEE-AYE CREATIVE! Instant, polite and informative answers to any questions. Just the best, thank you so much Nelson!
– Anna Stansbie
Responsiveness is my main concern when I deliver a website. Design may look beautiful on a desktop but we all know this is not the device most people browse and evaluate our work. It is good to find developers that listen to our priority requests and work on it first. Thank you, Nelson! You made my day today!
– Vera Schafer
Purchase Divi Responsive Helper
Ease The Pain. Enjoy The 
Benefits!
This plugin solves the struggle and creates an intuitive interface for making your Divi website responsive on all devices!
Very Simple To Use
We have integrated the features of this plugin beautifully into the normal Divi environment, including the Divi Theme Options and within all the Sections, Rows, Columns, and Modules. Easily enable or disable the individual features!
A Remarkable Time Saver
The Divi Responsive Helper was created to save time and improve efficiency. Spend less time opening and closing responsive settings and closing the builder constantly to test the responsive screen sizes in the browser tools. Instead of confusion and hassle, spend more time being creative with your design layouts and getting stuff done!
Enjoy Unlimited Installs & Lifetime Updates
We are offering an unlimited lifetime license on this amazing plugin, which means you can install and use it on as many sites and you want! How cool is that! We have priced the plugin accordingly with this in mind, knowing you will want to enjoy this on all of your sites with access to lifetime updates.
Get An Accurate Preview
Enjoy adjusting the Divi responsive design settings with confidence knowing they are affecting the correct device screen size.
Stop The Confusion
The responsive settings in Divi are very confusing. By default when you switch the main builder preview to Phone (for example) and make a change to a setting, you naturally expect it to apply to that device screen size. Instead, it defaults to all of them. Before you know it, your whole layout is messed up, and you wasted hours of work.
Quickly Pays for Itself
Considering all the time you will save, Divi Responsive Helper will pay for itself easily on the first website. The value of this plugin is much, much greater than the small cost.
Avoid Costly Mistakes
The default Divi responsive settings are cumbersome, awkward, and very limited. Worst of all, this can lead to embarrassing mistakes with long-term revenue loss. For example, a poorly designed mobile experience leads to much less search engine visibility which means fewer visitors and ultimately less money in your pocket. Our solutions clear up the confusion so you can edit your Divi websites to perfection.

Gain access to our private Facebook group called The Divi Teacher.
(an invitation will be sent after you purchase this product)

Hello, I'm Nelson Miller, the owner of this company. I created the Divi Responsive Helper plugin so you can quickly make Divi responsive on all devices! I truly hope you enjoy this game-changing plugin!
How does this plugin work?
The plugin adds new features directly in the existing Divi Visual Builder in the settings for modules, rows, columns, and sections. You must be using the Divi Theme or Divi Builder Plugin. Please check out our documentation page for more info on all the features.
Does this plugin add more breakpoints?
Our plugin gives you live custom preview sizes. The custom preview sizes are not CSS breakpoints. Most of the time you do not actually need more breakpoints. Instead, you should use our plugin's custom preview size or presets to find the perfect balance of settings for the existing Desktop, Tablet, and Phone breakpoints.
Learn more about CSS breakpoints and media queries in our tutorial: CSS Media Queries In Divi
Do you offer product support?
Absolutely, we are always happy to help you with anything you need related to our products. If there is any issue or concern, you can always reach out to us on our documentation and support page.
Can I use this on multiple websites?
Yes, our Divi plugins are licensed for unlimited personal and business websites. This means you can purchase any of our plugins once and use them on any personal or business website that you own and manager or that you develop for your own client. You are not allowed to sell, distribute, trade, give, or repackage our Divi plugins to anyone else under any circumstances
Will there be future updates & new features?
Yes, any updates are provided as needed and are offered for free to existing customers. Some updates may include additional features, security, or bug fixes.
We take feedback and feature requests seriously, and more responsive features will be added as we think of them. Please let us know your ideas to make this plugin even better!
Summary
Author Rating
Brand Name
Product Name
Price
Product Availability